China offshore software market to reach $13.8b
Updated: 2013-08-29 14:37
Beijing -- China-based offshore software development market will reach $13.8 billion in 2017 at a compound annual growth rate of 22.3%.
According to International Data Corporation (IDC), a provider of IT market research services, the market reached $5.05 billion in 2012 at a 22.5 percent growth rate over 2011.
In recent years, global customers have been under pressure to cut operating costs. Offshore outsourcing services which could optimize cost structures and compel the business transformation have been widely adopted. 2012 witnessed a year of rapid development and sharp transformation for the China outsourcing market. In that year, China outsourcing market experienced a dynamic merger of equals, buyouts of core business.
In comparison, the European and North American markets decelerated in terms of growth, accounting for a 57.3% market share with $2.89 billion in revenue, but they are still the foremost markets for Chinese SPs (service providers).
In 2012, the Japan and Korea offshore software development markets reached $1.81 billion, accounting for a 35.9% market share. This growth rate can be attributed to the following factors: Firstly, Japan's population is aging and declining in recent years, due to low fertility rates and longer life spans. The decreasing working-age population cannot meet the current demand for IT services. The outsourcing model is expected to play an increasingly important role in Japan, where it is seen as a complementary stream of talent.
Secondly, taxation reform has led to intense financial system demands. In recent years, the Japanese government had passed bills to reform financial system and tax legislation, paving the way for a series of IT system changes. Related government sectors need to complete the deployment of IT system in advance, increasing opportunities for application outsourcing services and system upgrading.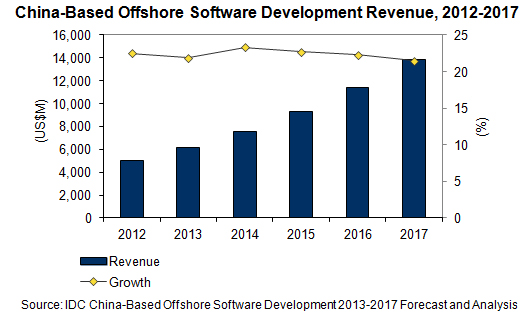 From the point of market development models, the offshore outsourcing industry in China presents the following characteristics:
Firstly, with the constant changes of international economic environment in recent years, currency fluctuations have lead to high exchange loss. For example, since November 2012, the yen depreciated significantly relative to the yuan. The long-term settlement of the foreign exchange market is still unable to cover that negative influence which directly has compressed Chinese SPs' net profit space. Plus the continuous RMB appreciation has given rise to the higher commercial costs, lowering the cost advantage of outsourcing service exports. On the other hand, the SPs who have abundant capital, could take advantage of the depreciated yen to carry out cross-border M&A toward Japanese service providers, aiming to realize scale expansion and revenue-boosting effectively.