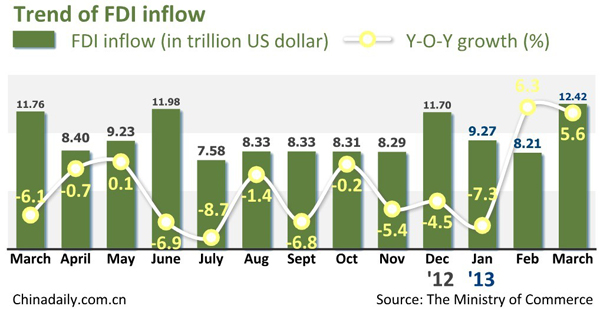 BEIJING - China attracted $29.91 billion in foreign direct investment in the first quarter of 2013, up only 1.44 percent year-on-year, the Ministry of Commerce revealed on Thursday.
In March alone, the FDI growth also eased to 5.65 percent to reach $12.42 billion, compared with a growth of 6.32 percent in February, when China reported a recovery in FDI after declining for eight consecutive months since June 2012.
The ministry said in the January-March period, most of the FDI flocked to China's service and manufacturing sectors, which attracted 48.24 percent and 44.05 percent of the country's total FDI, respectively.
Foreign investors set up fewer new firms in manufacturing and service sectors in the first three months, but such sectors still managed to post FDI growth, according to MOC.
Pan Xiangdong, chief economist with the Research Department of Galaxy Securities, said he expected FDI to improve further in the coming months.
While the Chinese economy saw weak recovery in the first three months, Pan said, some positive reforms and changes aiming at medium- and long-term growth are under way in the Chinese economy, which is helpful to attract overseas funds eyeing long-term opportunities.
But Pan said a sharp increase in FDI is not likely, as in the short run, China's economic growth pace will be limited while increasing competition from funds in the United States will divert part of global funds to the world's largest economy.
The European Union remained China's primary source of foreign funds, making $2.05 billion of direct investment in the first quarter, up 45 percent, according to MOC data.
Japanese investment in China rose 10.48 percent year-on-year to reach $2.29 billion, while US investment gained 18.5 percent to $1.06 billion.
China's western regions saw strong growth in foreign investment, with an increase of 18.29 percent, compared with 0.69 percent for the central regions and 0.17 percent for the east.
China still a major destination for global investment
China's growth powers world economy
FDI increase ends 8-month run of declines
China's FDI inflow declines further in Jan