Retail sales in China in the first quarter reached 5.55 trillion yuan ($897 billion), a year-on-year growth of 12.4 percent, but a 2.4 percentage point decline from a year ago, partly due to efforts to curb government spending.
Urban retail sales totaled 4.79 trillion yuan, up 12.2 percent year-on-year, according to the National Bureau of Statistics, while rural retail sales grew 13.9 percent to 755.7 billion yuan.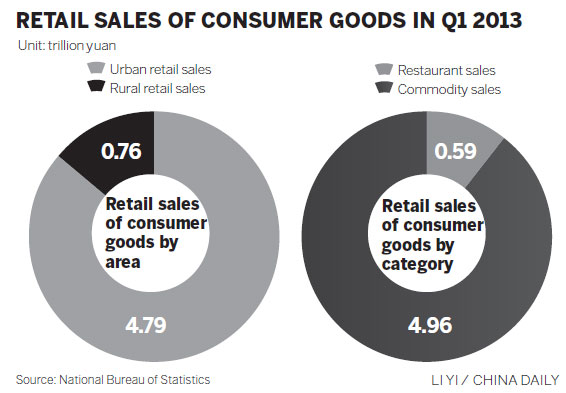 Tang Jianwei, a macro-economic analyst with the center for financial research at the Bank of Communications, said high-end consumption affected by the government anti-graft policies might reduce growth in retail sales of consumer goods this year.
The catering industry has been severely affected, recording the lowest growth in a decade.
Restaurant sales growth fell 4.8 percentage points to 589 billion yuan as a result of the government crackdown on wasting public money on luxury banquets.
The drop in sales at high-end restaurants shows the rules have been effective in curbing consumption, said Sheng Laiyun, spokesman for the National Bureau of Statistics, on Monday.
Despite the decline at luxury restaurants, spending by the public at restaurants has been growing rapidly, Sheng said, indicating a sound opportunity for the industry to update its structuring and to develop new marketing models.
China's catering industry has seen the slowest growth in 10 years, according to the China Cuisine Association. The industry's year-on-year growth of 8.4 percent in the first two months is the first single-digit growth since 2001, it said.
But Sheng said retail prices, rather than weaker growth in the catering industry, is the major factor affecting the slowdown in retail sales in the first quarter.
He said retail prices grew only 1.4 percent, down 2.1 percentage points from a year ago, with the main declines being seen in sales of automobiles, gasoline and related products.