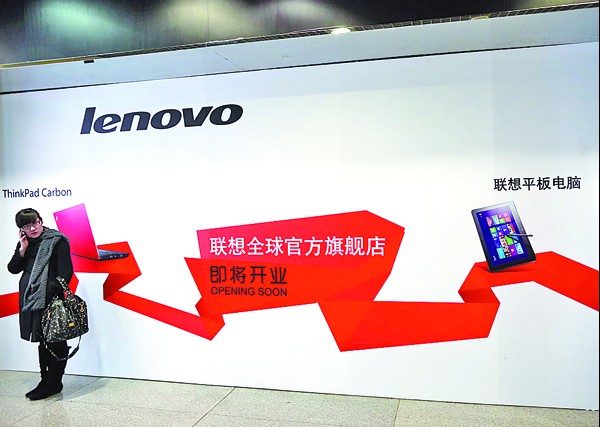 An advertisement for Lenovo Group Ltd in Beijing. Global PC shipments could see a double-digit slump in the second quarter of this year as demand in China shrank faster than expected, industry research company IDC warned last month. [Photo/China Daily]
Firm expects server and storage business to offset PC sales slump
Lenovo Group Ltd, the world's second-largest personal computer maker by unit sales, said on Tuesday that it plans to make its server and storage business arm into one of the company's major revenue sources over the next three years.
The announcement comes amid a dramatic decline in global PC market sales. International brands such as Dell Inc and Hewlett-Packard Co are also seeking ways to boost their bottom lines.
"We are looking for future profit generators, and the enterprise-level server and storage markets will surely fill that need," said Chen Xudong, senior vice-president and general manager of Lenovo's China unit.
Global PC shipments could see a double-digit slump in the second quarter of this year as demand in China, which took more than 20 percent of the market share, shrank faster than expected, industry research company IDC warned last month.
PCs remain Lenovo's biggest contributor to profits, while the growing mobile sector will play an increasingly important role in the company's overall strategy, Chen said.
Lenovo's smartphone business accounts for about 20 percent of the company's revenue in China.
But Chen refused to forecast the future market share of Lenovo's server and storage sectors.
Analysts estimated commercial products will continue to support Lenovo's earning for quite a while, and the company may not set any overly ambitious profit targets for emerging sectors such as servers and storage.
Although Lenovo's PC business is slowly growing amid a worldwide decline, the company is trying to expand its presence in various areas to better embrace the mobile era, said Wang Jun, an analyst at Beijing-based consultancy Analysys International.
Also on Tuesday, Lenovo released co-branded server and storage products with US data-storage company EMC Corp.
The two companies formed a joint venture last year to develop server and storage equipment.
"Teaming up with Lenovo will help us better access the Chinese market because it has a well-established sales and service network in the country," said Marcus Stoi, president of EMC China.
The US company has "several thousand" distribution channel partners in China, while Lenovo has more than 20,000 partners.
Most of the servers released were mid- and low-end entry-level products. The companies pledged to invent more higher-end servers as the research and development ties strengthen.
In addition, the joint venture will face challenges from local competitors, including ZTE Corp and Huawei Technologies Ltd. Both are rolling out similar products that target mid-end clients.
"ZTE and Huawei have advantages in the telecom sector. Currently, we will focus on making hardware rather than integrating services," said Chen, adding that Lenovo will have an edge when exploring overseas markets.
Lenovo is not a newcomer in the server sector. The company released its first server in 1995, but later partnerships with technology providers such as Oracle Corp failed to boost Lenovo's enterprise business.
The company joined hands with EMC after the US company ended a decade-long reseller relationship with Dell, the world's largest PC manufacturer.
Stock in Lenovo, listed in Hong Kong, closed at HK$7.52 (97 US cents) on Tuesday, a drop of 2.46 percent compared with the previous trading day.
gaoyuan@chinadaily.com.cn