Xi unveils aid package for victims of Syrian crisis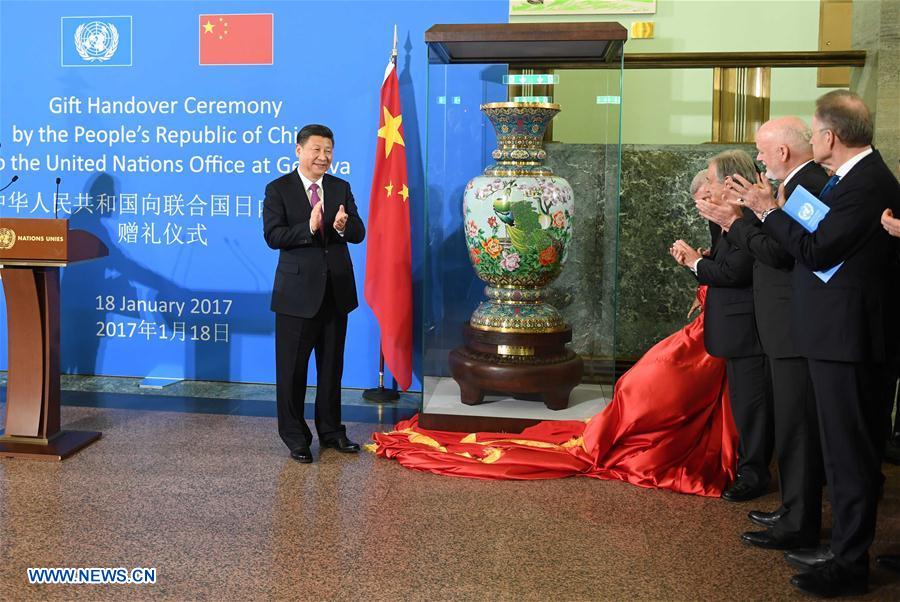 Chinese President Xi Jinping (L) attends a gift handover ceremony at the United Nations Office in Geneva, Switzerland, Jan 18, 2017. [Photo/Xinhua]
According to Xi, China has provided foreign countries with over 400 billion yuan (about 58.4 billion US dollars) of aid between 1950 and 2016, while since the outbreak of the international financial crisis, China has contributed to over 30 percent of global growth each year on average.
He went on by saying that in the coming five years, China will import eight trillion dollars of goods, attract 600 billion dollars of foreign investment, make 750 billion dollars of outbound investment, adding that Chinese tourists will make 700 million outbound visits.
"China remains unchanged in its commitment to foster partnerships," he said in the speech.
He also said that China pursues an independent foreign policy of peace, and is ready to enhance friendship and cooperation with all other countries on the basis of the Five Principles of Peaceful Coexistence.
China has formed partnerships of various forms with over 90 countries and regional organizations, and will build a circle of friends across the world, he said.
The Chinese president said China will strive to build a new model of major country relations with the United States, a comprehensive strategic partnership of coordination with Russia, partnership for peace, growth, reform and among different civilizations with Europe, and a partnership of unity and cooperation with BRICS countries.
China is also going to remain unchanged in its commitment to multilateralism, said the president.
He hailed multilateralism as an effective way to preserve peace and promote development, saying that for decades, the UN and other international bodies have made a universally recognized contribution to maintaining global peace and sustaining development.
China will firmly uphold the international system with the UN as its core, the basic norms governing international relations embodied in the purposes and principles of the UN Charter, the authority and stature of the UN, and its core role in international affairs, he added.