Boom in programs for executives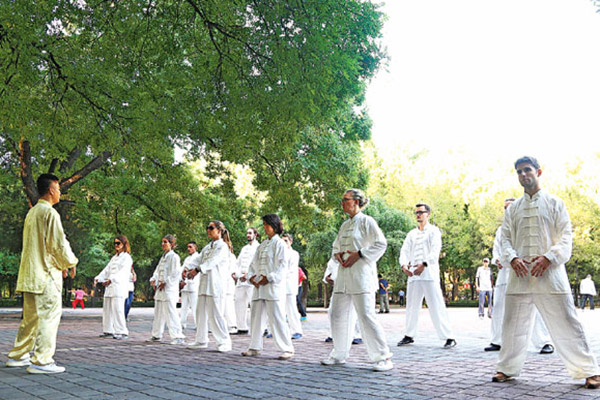 Foreign students experience Tai Chi in China as a part of culture studies during the CKGSB China Start program. [Photo provided to China Daily]
In the warmth and tranquility of the Swiss Alps, a group of Chinese tour operators gather for a lesson in innovation and inspiration.
The group are being sponsored by TravelSky Technology, the State-owned travel information provider based in Beijing, to attend an executive education course hosted by Switzerland's IMD Business School.
The venue is the Chateauform Chalet de Champery, a boutique hotel exemplary of Swiss hospitality, which has been especially chosen with the intention to inspire the tour operators.
But unlike the five-star luxury hotels that are now commonplace in China, Chateauform is characterized by a certain simplicity and unique designs aimed at encouraging interaction.
Guests spend most of their spare time in the lounge, as no television is available in their rooms. There, drinks are readily available but no barman is seen, so guests are prompted to serve each other.
Howard Yu, a professor of strategic management and innovation at IMD, who led the lesson, said the goal is not for the Chinese tour operators to copy the model wholesale, but to adopt ways of thinking, which they can use in their businesses.
"A lot of these guys in China are very busy," Yu said. "They constantly look at what their competitors are offering, because they feel they're facing the danger of falling behind.
"We wanted to show them how Western pioneering companies can get ahead of the competition by developing innovative solutions to satisfy customer needs, instead of being copycats," he added.
The Chateauform lesson is just one example of tailor-made China-oriented executive training programs being offered by leading business schools globally.
Once a shrinking market in the years following the financial crisis, programs such as these are experiencing a revival.
Cheung Kong Graduate School of Business launched an executive program known as China Start. It offers international startup companies the chance to visit leading incubators and platform businesses, such as JD.com Inc, to discuss collaboration opportunities.
Leveraging on its huge alumni network, the school takes these overseas businesses on the China Start program to meet investors. Of 10,000 alumni so far, more than half are company chairs or chief executives.
In 2015, the University of Oxford's Said Business School, Harvard Business School and Peking University jointly created an executive degree program to help Chinese family businesses overcome challenges, such as succession planning, structural shift and globalization.
"The program is so well designed and touches the very heart of challenges we face as a family business," said Guo Feng, 34, a second-generation family business owner who participated in the program.