Logistics firms gear up for Singles Day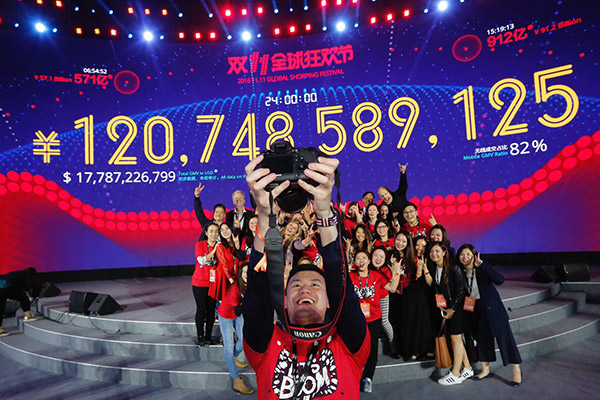 Staff of Alibaba's online shopping platform Tmall cheer as its sales volume surpasses 120 billion yuan during the Singles Day shopping spree in 2016. [Photo/Xinhua]
Delivery firms and pickup stations are getting ready for the world's largest shopping festival on Nov 11 organized by e-commerce giant Alibaba Group Holding Ltd, as its logistics arm Cainiao Network Technology Co Ltd prepares for the event with a vast, military-scale campaign.
The number of parcels generated from the Singles Day promotion from Nov 11 through 16 is projected to smash last year's record of 657 million to hit 1 billion, putting mounting pressure on couriers as they overcome traffic congestion to satiate customers' appetite for sameday delivery, said Yu Yan, an official in charge of courier supervision under the State Post Bureau.
Yu called for enhanced coordination among vendors, couriers and pickup stations, especially in counties and townships, to ensure smooth "last-mile" delivery. She added the bureau would constantly update peak-shopping alerts to notify both suppliers and consumers.
Cainiao, which connects a consortium of Chinese delivery firms, will give a subsidy of 1.5 billion yuan ($228.4 million) to its partners to encourage the adoption of big data technologies for precise demand prediction, said company vice-president Shi Miao.
For instance, it can derive intelligent algorithm to narrow users' shopping intentions via Tmall and its sister platforms and forecast prospective sought-after items. Through data-sharing, vendors can adjust inventory across a number of key warehouses to avoid the overwhelming influx of parcels within hours.
Effects are profound. It took two days to reach the 100 million benchmark for parcel delivery during the 2013 sales. Last year, that figure dropped to 12 hours. Shi said the company is aiming for a further reduction this year.
Cainiao has also installed 200,000 parcel pickup boxes nationwide and established hundreds of thousands of service stations where consumers can fetch delivery of online-ordered goods. In rural areas, Cainiao is working with regional "last-mile" delivery firms.
This year's gala also features the establishment of eco-friendly facilities. In May, Cainiao pledged investment in 1 million new-energy vehicles and linked them onto a smart logistics platform, which can trim the rate at which its cars travel empty and reduce the driving distance.
In a greener push, Cainiao will promote the use of electronic delivery receipts and put to use 20 prototyped warehouses that use recyclable and degradable materials for packaging, Shi noted.
The over 90 percent adoption rate of digital delivery forms at Yunda Express has significantly helped accelerate the collection and dispatch of parcels and is environmentally friendly, said Lai Shiqiang, Yunda's senior vice-president. With the support of big data, the number of Yunda-handled parcels jumped 45 percent year-on-year in the first half of 2017.
Debuted nine years ago, the Nov 11 campaign emerged as a marketing ploy for the celebration of singles but quickly spawned into a massive shopping extravaganza that eclipsed the scale of Black Friday in the US. Sales in 2016 for the 24-hour shopping binge reached 120.7 billion yuan.