China set for world's largest clean coal power system by 2020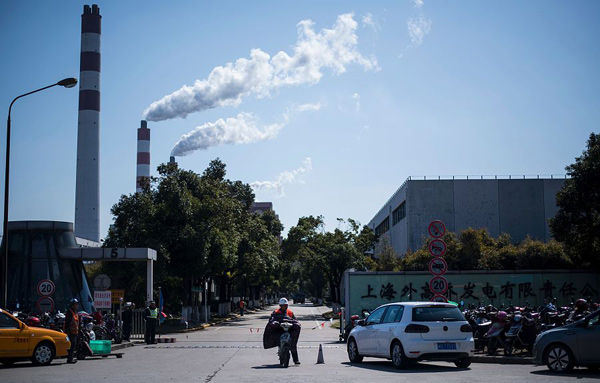 A worker rides his scooter near a coal power plant in Shanghai on March 6, 2017. [Photo/VCG]
China is expected to boast the world's largest clean coal power system with high efficiency by 2020, the Xinhua-run Economic Information Daily reported on Wednesday.
Since 2014, the coal-fired power sector has been renovating facilities to reduce emissions and save energy.
In 2015, the Ministry of Environmental Protection, the National Development and Reform Commission and the National Energy Administration jointly issued a plan for coal-fired power plants to renovate facilities to cut emissions and conserve energy. It set a target of completing such renovations by 2020.
"By the end of June this year, 5.7 kilowatt of generators have been renovated, accounting for 60 percent of the total installed capacity of coal-fired power units," said Liu Bingjiang, director of the Department of Air Environmental Management, the Ministry of Environmental Protection.
"Beijing, Tianjin and Hebei province have completed the plan, while the eastern regions have basically wrapped up the work," he added, confident of achieving the target for 2020.
Currently, the focus of the country's air pollution control efforts lies in non-electricity sectors, such as steel, cement, sheet glass and electrolytic aluminum as the country has greatly reduced major pollutant discharge in the coal-fired power sector, the Economic Information Daily said.
The emissions of sulfur dioxide and nitrogen oxides in the coal power industry have been reduced from a peak of 10 millions of tons to millions of tons, according to Liu. The coal power sector has become the sector that is ranked at the top in meeting emission standards, he added.
According to statistics from the China Electricity Council, by the end of 2016, the country's installed capacity of coal-fired power generators was 940 million kW, accounting for 57.3 percent of the total installed generating capacity. The coal-fired power output was 6 trillion kilowatts per hour, representing 65.5 percent of the total power output.