Nation may launch real estate trusts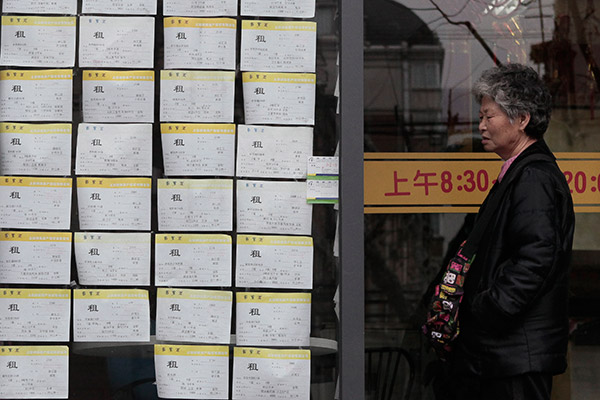 A citizen checks house leasing information on Xiangyang Road, Shanghai.[Gao Zheng/for China Daily]
Mutual fund-like investment vehicle encourages residence construction
China's equity market regulators have stepped up the pace of introducing rules aimed at encouraging individual investors to finance development of residential leasing properties, a move that analysts said will be greatly helpful to long-term growth of the sector.
Real estate investment trusts (REITs) of companies that operate residential leasing properties and public rental projects are likely to be included in the first batch of financial tools involving individual investors' funds, analysts said.
In China, some quasi-REIT products are offered among private equities, but no specific REITs supporting residential projects have been offered as no regulations have been made.
Companies that want to develop rental projects currently face hurdles: The return rate is too low and it takes too much time to realize positive cash flow; thus, a new mechanism for financing and income model is required to give companies incentives to operate residential rental projects, according to Li Yujia, analyst with Shenzhen Real Estate Research Institute.
"Market-oriented developers and operators would be reluctant to engage in rental projects when risk-free return rate is about 4 percent while return rate of leasing projects is about 2 percent, and it takes up to 60 years to break even. If land supplies and financing mechanism would help to reduce cost of land and give (the) developer and operator better return, more players would join the market," Li said.
In Shanghai, two parcels of land that were designated for residential rental projects in Jiading projects were transacted at less than 6,000 yuan ($915.6) per square meter, which was about 10 percent of the average market price for commercial residential projects in the city.
The move is also regarded as a start of enabling more financing mechanism to be piloted in rental project development.
"When cost of land for rental housing projects is about 10 percent of that in commercial properties, (the) return rate could be somewhere at 6 percent, which will work for operators," Li said.
REITs, which focus on stable income and long-term operation, actually match the nature of residential leasing market well, as long as the return rate is reasonable, according to a research note from Cushman and Wakefield, a real estate services provider.
"Diversities of housing products and services will help growth of leasing market, and return will be stable and steadily grow, too. When all these conditions are mature, REITs are likely to develop healthily in China," the Cushman & Wakefield research noted.
China's residential leasing market size is expected to grow from 1.1 trillion yuan in 2016 to 2.9 trillion yuan in 2025. It is expected to further grow to 4.6 trillion yuan in 2030, according to a research note by LPlus Research Institute, real estate information services provider.