New growth drivers expanding fast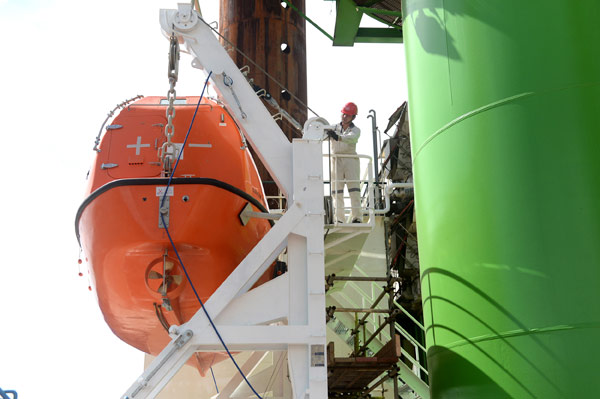 A man checks a wind power generating facility installed on a ship of an offshore engineering company in Qidong, Jiangsu province. The city has innovated shipping-related technology in recent years to improve efficiency. [Photo/Xinhua]
China has compiled a new index to reflect the contribution of new growth drivers to the country's economic growth, said its statistical head on Thursday.
"After five years of exploration and application, China has established a statistical system that can reflect the development of the country's new growth drivers and industries," said Ning Jizhe, head of the National Bureau of Statistics.
He made the announcement at the ninth meeting of the heads of national statistical offices of the BRICS countries in Hangzhou, Zhejiang province.
The New Growth Driver Index shows the role of economic vitality, digital economy, restructuring, knowledge capacity and innovation as new growth drivers.
Each of the five is again measured by way of a sub-index.
The new index has 2014 as its starting point. In 2015, it reached 129, up 29 percent year-on-year, said Ning.
The rise of the index in 2015, the latest year for which data is available, shows that China's new growth drivers are expanding at a fast pace.
China's economic vitality is growing, said a development report on China's new economic momentum, released for the first time by the NBS at the BRICS meeting.
The Chinese Academy of Science and Technology for Development, a think tank affiliated to the Ministry of Science and Technology, released a similar index in January to reflect the role new growth drivers, such as innovation and emerging industries, have played in expanding the Chinese economy.
That index had continued to grow in the 2012-15 period.
China has made strenuous efforts to restructure its economy, with focus on maximizing the potential of the economy through encouragement of innovation and support for the development of some key emerging areas such as new materials, artificial intelligence, internet and the digital economy.
NBS data show that from January to July, China's patent applications rose by 8 percent year-on-year to 1.83 million.
During that period, China's online retail sales increased by 33.7 percent, 6.2 percentage points higher than the same period of last year.
In the Global Innovation Index rankings compiled by the World Intellectual Property Organization, China stood at the 22nd place this year, up from 34 in 2012 and is the highest among mid-income economies.
The two-day statistical office head meeting of BRICS-Brazil, Russia, India, China and South Africa-opened in Hangzhou on Thursday, shortly after the three-day BRICS Summit ended in Xiamen in East China's Fujian province.
NBS' Ning urged statistical authorities of the five countries to improve cooperation and standards of statistical work related to new growth drivers.
Xinhua contributed to the story.