Payments for China IP boom as service sector picks up pace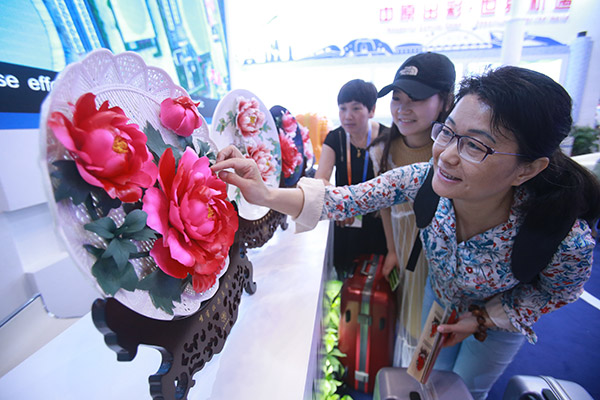 Visitors examine porcelain products made in Luoyang, Henan province, during an international fair for trade in services held in Beijing. [Chen Xiaogen/for China Daily]
Payment for the use of China's intellectual property by overseas economies skyrocketed nearly 500 percent in the first seven months, as the country's service export improves, data from the Ministry of Commerce indicated on Thursday.
China's service trade deficit has narrowed significantly, according to Gao Feng, the ministry's spokesman. In July, the figure decreased 30 percent month-on-month and 1.8 percent year-on-year to 141.5 billion yuan ($21.8 billion).
The structure of service trade has been optimized, with exports of the emerging sectors' services racking up the biggest increase, Gao said.
In the first seven months, exports of emerging sectors' services totaled 405.6 billion yuan, up 8.3 percent year-on-year. This was 3.9 percentage points higher than the overall growth rate, accounting for over half of total service export.
Specifically, exports of culture and entertainment services surged 20.4 percent year-on-year, and those of maintenance services by 14.4 percent year-on-year.
Liu Chao, deputy director-general of legal affairs at the China Council for the Promotion of International Trade, said: "China has made reasonable changes in response to foreign companies' opinions especially in areas such as IPR protection, foreign investment categories and the labor environment, as these elements connect directly with the country's foreign direct investment flows."
"In addition, all the free trade agreements, such as China-South Korea FTA or China-Australia FTA China signed with partner countries, have stipulated clear policies and measures in tackling crimes regarding the protection of intellectual property rights," said Liu.
Guo Xiaojun, deputy director of the CCPIT Patent and Trademark Law Office, said the rising payments for the use of China's intellectual property by overseas economies indicated that the patent market is "quite lively" and "on a trajectory toward maturity."
"In the past, China urged companies to apply for high-quality patents. Now the country is encouraging them to use patented technologies and copyrights in a lawful way, which helps them better realize their business value."
Earlier this year, China pledged a further opening up of services and industries related to healthcare, finance, insurance, telecommunications, technical service, energy-saving and environmental protection.
The government has also increased its supervision of daily necessities, electronics, cosmetics, garments and pharmaceutical products being exported to overseas markets, and cracked down on illegal activities such as forged export certificates and official seals.
Between January and July, China's total imports and exports of services reached 2.65 trillion yuan, a year-on-year increase of 10.6 percent, according to the ministry.
Service imports showed a similar uptrend. The country's imports of telecommunication, computer and information services surged by 74.2 percent to 71.8 billion yuan. The figure for intellectual property costs rose by 25.8 percent to 112.6 billion yuan.
Nation open to further free-trade deals
China takes a positive and open attitude toward reaching free-trade deals among BRICS countries, the Ministry of Commerce said on Thursday.
So far, China has reached 15 free trade agreements with 23 countries and regions, according to Gao Feng, the ministry's spokesman.
Gao said China is making strenuous efforts to promote related negotiations and conducting joint feasibility studies, in order to further boost regional trade and investment.
"Economic and trade cooperation has always been an important pillar of BRICS relations. We are committed to strengthening economic integration in the area," he told a news conference.
Gao's comments underscored China's resolve to deepen comprehensive cooperation with other BRICS countries: Brazil, Russia, India, and South Africa.
The nations are home to over two-fifths of the world's population, with their combined gross domestic product totaling more than $16 trillion.
During the recently concluded BRICS summit in Xiamen, China announced it would offer 500 million yuan ($76.4 million) for a BRICS-related economic and technology cooperation plan, and another $4 million for projects at the New Development Bank.
Meanwhile, the five nations agreed to further enhance cooperation in such fields as insurance and reinsurance, taxation reform, and customs.