Belt and Road connects Manzhouli to the world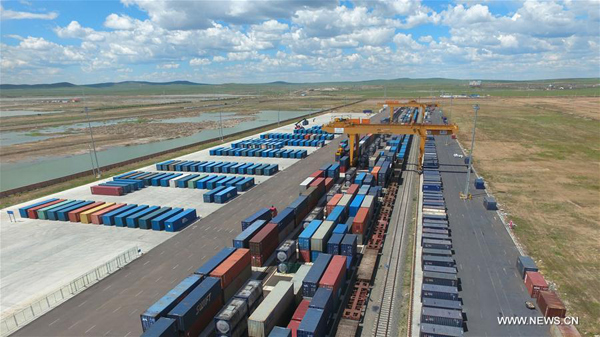 Photo taken on June 23, 2016 shows a container yard at the port of Manzhouli, Inner Mongolia autonomous region. [Photo/Xinhua]
HOHHOT - Oktyabrina does not know much about the Belt and Road Initiative, but she knows enough about money.
Located in the China-Russia tax-free trade zone in Manzhouli, Oktyabrina's company is doing well; very well. In July, high season in Manzhouli, 2,000 people visit her shop every day, most of them buying imported goodies from Russia.
"Candy and flour are our biggest sellers. Sales are up 20 percent from last July. Tax exemptions mean customers spend less and we earn more. It is the very definition of win-win," said Ding Yanping, Oktyabrina's Chinese business partner. Ding owns 50 percent of the company and is in charge of the shop's daily management.
Oktyabrina's shop is just one of over 50 Russian companies registered in the Manzhouli tax-free zone, attracted by good logistics and speedy customs clearance.
Since it was established last June, 170 million yuan ($25.4 million) - 22,000 tons - of Russian imports has passed through the port.
"The tax-free trade zone is a bridge linking China and Russia sharing the prosperity of both countries. That's what the Belt and Road Initiative is all about," said Zhang Jinzhu, manager of the trade zone.
With a population of 300,000, Manzhouli is important on Eurasian land passageways and the China-Mongolia-Russia Economic Corridor (CMREC). Nearly 70 percent of trade between China and Russia passes through Manzhouli.
"We are integrating our plans with the Belt and Road. We are key to the northward opening-up of Inner Mongolia," said Xu Ailian, mayor of Manzhouli.
The idea of the CMREC emerged in September 2014 during the first trilateral meeting of the heads of state of the three countries in Tajikistan and, in 2016, CMREC became the first multilateral cooperation plan to become part of the Belt and Road Initiative.
The CMREC has two key arteries: one from the Beijing-Tianjin-Hebei region to Hohhot and on to Mongolia and Russia; the other from China's northeastern provinces through Manzhouli into Russia. The channels have improved connectivity and cooperation in border regions and have led to the overhaul of customs procedures.
In the first seven months of this year, 747 freight trains passed through Manzhouli, carrying goods worth 3.15 billion U.S. dollars, 25 percent more than in the same period last year.
Freight trains link Manzhouli with 28 international destinations, with trains originating as far away as Guangdong in China's deep south.
Manzhouli customs officers work closely with their Russian counterparts.
"We have round-the-clock clearance for goods trains. The faster we clear the cargo, the faster the trains are on their way," said Xu Xuemeng, a logistics monitor with Manzhouli customs. He sees more high-tech products heading to Europe, including computers, home appliances and manufacturing equipment.
As the bridgehead of northward opening-up, Manzhouli is a shining light of economic growth of Inner Mongolia autonomous region, which celebrated its 70th anniversary on Aug 8.
Over seven decades,the region's economy has expanded from 537 million yuan to 1.86 trillion yuan, first among the country's five autonomous regions.
Inner Mongolia's foreign trade has increased from 30 million yuan to 77.3 billion yuan since the beginning of reform and opening up.
"In the future, we will conduct more practical cooperation with Mongolia and Russia to invigorate the grassland Silk Road," said Manzhouli Mayor Xu Ailian.