China's rail freight grows faster as economy holds steady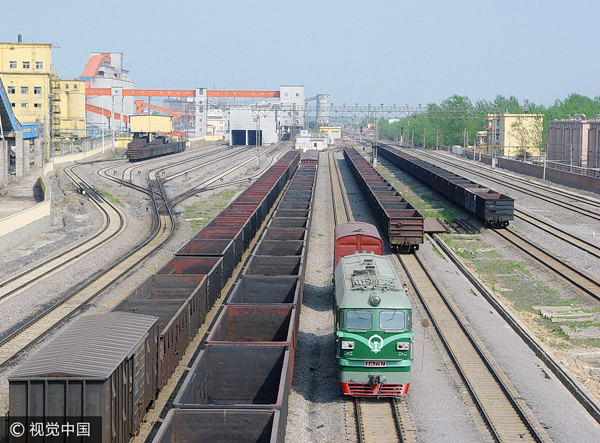 China's rail freight volume recorded faster growth in July, the national railway operator said on Aug 16, 2017. [Photo/VCG]
BEIJING - China's rail freight volume recorded faster growth in July, the national railway operator said Wednesday.
Railways carried 246 million tons of cargo last month, up 17 percent year-on-year, up from a 15.5-percent growth in June, according to figures from the China Railway Corporation (CRC).
Freight by high-speed railway was up 70 percent year-on-year in July, the CRC said.
In the first seven months of the year, rail freight volume reached 1.7 billion tons, up 15.1 percent from a year earlier.
Rail freight, electricity consumption and lending are important indicators of economic activity.
In July, industrial output, fixed-asset investment and consumption all posted slower expansion than in June, but both electricity use and new lending saw stronger growth.
Power use rose 9.9 percent year-on-year to 607.2 billion kilowatt-hours last month, up from a 6.5-percent increase in June.
Outstanding new yuan-denominated loans stood at 825.5 billion yuan ($123.6 billion) in July, up 361.9 billion yuan from the same period a year ago, beating market expectations.
China posted GDP growth of 6.9 percent in the second quarter, flat with the previous quarter and above the government's annual growth target of around 6.5 percent.
Last month, Chinese passengers made 290 million trips by rail, up 9.9 percent year-on-year, compared with a 4-percent increase in June, as railway transport entered high season, according to the CRC.
The summer peak period for rail transport runs from July 1 to Aug 31, when students on vacation have time to travel or return home.
Trips on high-speed rail increased 15.7 percent year-on-year to 160 million last month, with high seat occupancy rates for the new-generation Fuxing trains that debuted on the Beijing-Shanghai line in late June.
In the first seven months, around 1.8 billion passenger trips were made by rail, 9.9 percent more than the same period of last year, the CRC said.