Profit from peace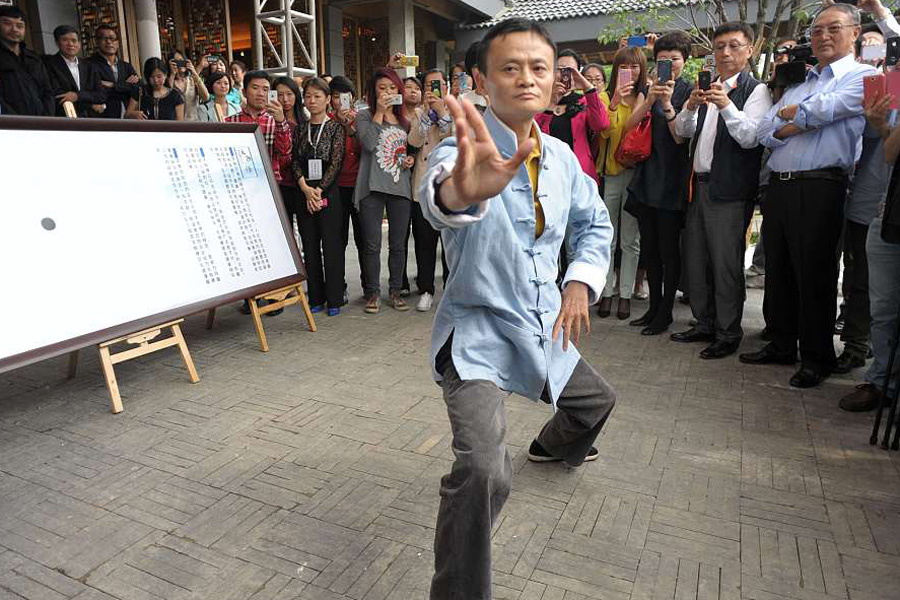 Jack Ma practices tai chi in Hangzhou, Zhejiang province, May 10, 2013. [Photo/VCG]
China's billionaires and successful entrepreneurs are embracing tai chi, a homegrown gentle exercise or martial art characterized by rhythmic circular movements, to boost not just personal well-being but company profits, launch new products and services, and transform corporate cultures.
For instance, Guo Guangchang, president of Fosun Group, and Jack Ma, founder of Alibaba Group, are among the prominent personalities championing the cause of tai chi.
Elite tai chi clubs comprising business-people are not uncommon in China these days. Well-known entrepreneurs in white silk garbs can be found going through the slow motions at private parks.
After practising it for over three decades, Ma has made tai chi part of Alibaba's organizational culture. Tai chi workshops are part of staff training.
In his 2009 "State of the Union" address, US President Barack Obama called tai chi one of the best aerobic exercises of the world.
For long, tai chi has been practised by senior citizens as a morning or evening ritual as it is believed to help practitioners to balance positive and negative inner energies. That philosophy is now being applied in business to boost profits.
"It is a nice trend that influential entrepreneurs are doing tai chi, since it plays a positive role in promoting inner peace," said Li Longxin, a Brazilian startup owner in Beijing.
"I also think that in terms of cultivating a good character, tai chi is better than activities like muay thai."
Ary S, a Russian public relations manager in Beijing, said: "Tai chi is typical 'Eastern stuff ', and I'd like to learn it. I see foreign media love to write about Chinese CEOs performing tai chi with their employees."
In just a few years since its commercialization, tai chi has acquired the status of a management technique that can help better manage oneself, one's team and business, potentially boosting profits.
Besides, tai chi is seen as a potential revenue booster for the tourism industry. Since the 2008 Beijing Olympics, explorers of foreign cultures and backpackers alike have been taking to it with gusto.
On Trip Advisor website, a US tourist shared his experience of an introductory tai chi session in Beijing. He wrote the teacher initiated the tourist group into tai chi slowly, and patiently explained its meaning and benefits. "We loved every minute. What a great experience."
Tai chi presents a contrast to other combat sports like kick-boxing, kung fu or muay thai that require speed and strength.
Although it was designed to be a self-defense skill, tai chi's modern practitioners feel it can help reduce stress and calm the mind.
The philosophy of balancing inner energies is similar to managing a company, Ma once said. He also said he developed leadership abilities from Taoism, management skills from Confucianism and inspiration to live a normal life from Buddhism. "And tai chi is what combines all separate parts together."
Fosun Group's Guo, another Chinese billionaire, is also passionate about tai chi. "It doesn't require large spaces or a whole set of equipment like golf. It is a more sustainable exercise. I used to be very irritable and constantly yelled at my team. We've that anger in our belly and we need to calm it down."
So, Guo applied tai chi in his work. "It doesn't teach you how to be fast but how to react faster. In investing, one can never always stay ahead of the market reaction. But tai chi made me react more spontaneously to change."
In 2011, at a Fosun branding event on Wall Street, Guo pitched tai chi to entrepreneurs. Ever since, he has been performing tai chi at the group's annual dinner in New York.
He also introduced tai chi to his friends such as Dai Zhikang, founder and chairman of Zendai Group.
Tai chi itself has become an intellectual property and has spawned many businesses, products and services.
In April 2012, famous kung fu actor Li Lianjie, known in the West as Jet Li, and Alibaba's Ma jointly founded Taiji Zen International Culture Co Ltd by investing 50 million yuan ($7.3 million). Taiji Zen developed tai chi-related cultural products and services.
Four years later, it set up a cultural institute that provides not only martial art tutorials but 18-day courses in philosophy for entrepreneurs that can cost up to 99,800 yuan.
"Promoting tai chi is not only a challenging career for me but a way to show my gratitude and give back to my predecessors, teachers and the whole martial arts world," said Jet Li.
"Tai chi can provide a guideline for those running a business," Alibaba's Ma said. "Copying Western management system isn't enough to run an enterprise in China, it needs supports from its deep Eastern cultural roots. That's why, we set up the tai chi school."
Huang Zhongda, the first person to commercialize tai chi and founder of i-Tai Ching, said he realized tai chi has huge potential when he was studying for his senior management consultant certificate.
"Entrepreneurs usually suffer from suboptimal health, so practising tai chi can help improve mental and physical health," said Huang.
"But those entrepreneurs don't like hanging out with senior citizens in a public park. Instead, they need exclusive high-end spaces to practise," he said.
Soon after he picked up the martial art, Guo invested in i-Tai Ching and co-founded i-Tai Ching Sports Development Co Ltd in 2010. The i-Tai Ching elite clubs have spread across China's top-tier cities including Beijing, Shanghai and Hangzhou.
Monthly memberships of such clubs can cost 35,000 yuan. In a sense, this turns the tai chi schools into elite social clubs that are becoming popular among even expatriates.
"Tai chi can help people to relax and harmonize their life, bring peace and balance, which transcends elegantly into company management. I would recommend trying it to everyone," said David B. Allen, CFA, a Canadian in Shanghai.
Lin Shuyun, a Thai student of the Shanghai University of Finance and Economics, said: "Tai chi can calm people down, and it's not too difficult to learn. There are no limitations related to space and time. I think tai chi helps practitioners, including entrepreneurs, to keep healthy and to learn some values of life."
Indonesia's Bagas Deka Kurtianto, Lin Shuyun's university mate, said: "Many entrepreneurs appear to be under too much stress. Tai chi can eliminate their bad emotions and pressure. It can also help them to cultivate patience and inner calm, which should help in company management. An even-tempered manager can win respect of employees while a short-tempered manager would terrify staff."
The bottom line is, Chinese martial arts are becoming popular across the world. The Mei Quan Academy of Taiji, a London-based tai chi club, now has 48 branches from hipster center Camden Town to affluent Chelsea and central district Russel Square. It also has a presence in Australia, Japan, the US and Europe.
Contact the writer at renxiaojin@chinadaily.com.cn