Tighter regulation takes toll on housing transactions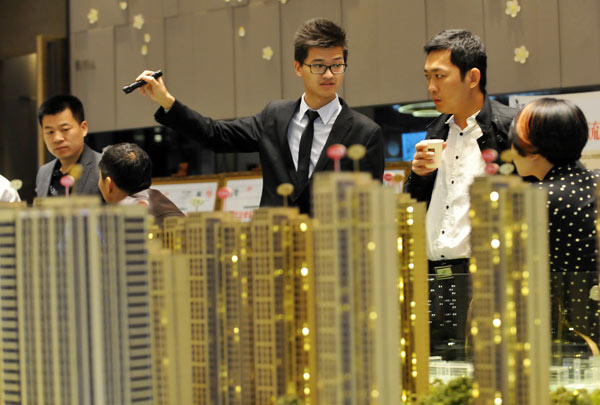 A salesman introduces a property project in Wuhan, Hubei province. [Photo by Miao Jian/For China Daily]
Transactions in residential properties continued to decline in July as a result of tightened housing policies and financing for homebuyers, particularly in key cities in China.
The combined space of transacted residential properties in Beijing, Shanghai, Guangzhou and Shenzhen was 2.4 million square meters, down 17 percent month-on-month, or 46 percent year-on-year, according to data from China Real Estate Index System, Beijing-based real estate market information provider.
In 16 second-tier cities, including those with fast net population inflows such as Wuhan, Chongqing, Nanjing, Chengdu and Qingdao, the combined space of transacted residential properties in July declined 4 percent month-on-month and 23 percent year-on-year to 12.28 million square meters.
"Tight lending for homebuyers and policies encouraging the leasing market impacted homebuyers' sentiment," said Gao Jing, an analyst with CREIS.
Real estate professionals said both buyers' and sellers' enthusiasm is declining.
"For buyers, it is really difficult to get their applications for home loans approved, as lending has tightened significantly since the beginning of the year," said Yang Zhaojun, a real estate agent with Shanghai Junda Realty Services.
"For sellers, the average price is not rising as fast as it used to. Sellers would think they might yield higher returns when the price grows further," said Yang.
Policies encouraging the leasing market have also led some potential buyers to become tenants.
Zhai Xin, a 28-year-old project manager with a telecommunications technology company in Shanghai, abandoned his plan to buy an apartment in suburban Shanghai, and rented an apartment in the downtown area instead.
"With my imited budget, if I want to buy a home, I can only afford a small apartment far from my workplace. Now I see more policies encouraging the leasing market, such as those giving more rights to tenants. Other cities have enabled tenants to have access to public services on a par with homeowners. Given these trends, I believe renting a home may bring me a better quality of life," he said.
Hu Jinghui, vice-president of Beijing-based BACIC, a real estate services provider, said the residential market is now returning to a stable and healthy situation as cities across China implement policies to ensure that housing is for accommodation rather than speculation.
"A long-term mechanism to stabilize the market is one of the most important goals. Besides policies to adjust supply and demand, and controlling speculation, more measures in terms of lending, property ownership policies, and taxation policies are needed," said Hu.