Ofo bikes to be rolled out in Malaysia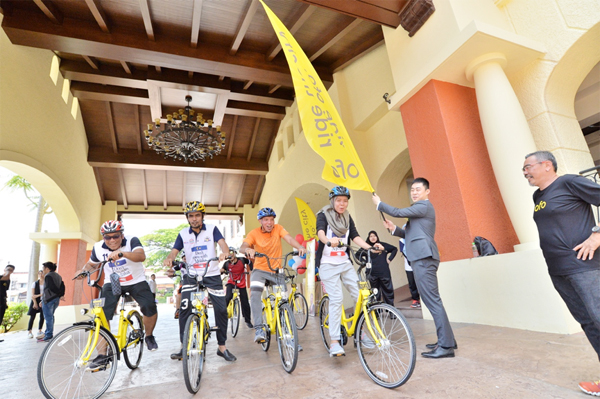 Local residents and officials ride Ofo bikes in the city of Melaka, Malaysia. [Photo provided to chinadaily.com.cn]
Chinese bike-sharing giant Ofo Inc announced on Thursday that it is pedaling its way to Malaysia, as competition with arch rival Mobike Technology intensifies in the overseas market.
Malaysia will be Ofo third Southeast Asia stop with the announcement coming just days after Ofo officially launching its bike-rental service in Thailand.
The Beijing-based startup said it has already deployed 500 shared bikes in the city of Melaka in Malaysia and it plans to have 2,000 bikes on the streets by the end of this month.
During the initial phase of operation, local residents will be charged 1 yuan per hour to ride the distinctive yellow bikes, without paying any deposit. Ofo users can ride the bikes by simply scanning a QR code via an app and then pay online on their smartphones.
Lawrence Cao, head of Ofo's Asia-Pacific business, said Ofo would work closely with the local state government to build a green technology state by 2020.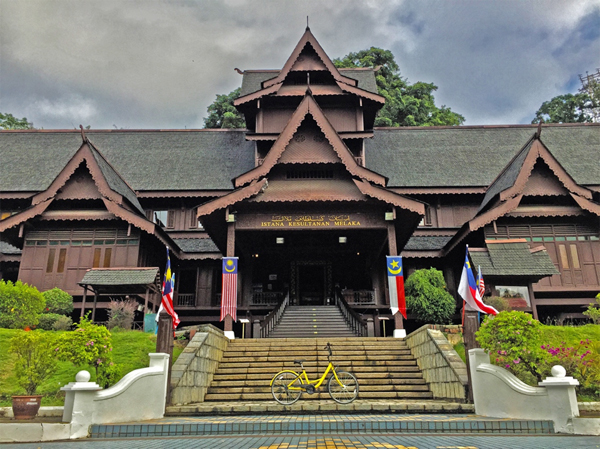 A yellow Ofo bike in front of the Malacca Sultanate Palace in Melaka, Malaysia. [Photo provided to chinadaily.com.cn]
"We foresee that cycling will become a form of green transportation to enhance livability for locals and tourists, leading to a reduction in carbon emission and introduction of green practices into everyone's daily lives," Cao said.
Chief Minister of Melaka Idris Haron said Ofo's business model would provide a high-quality, yet cost-efficient transport option and ultimately boost Malaysia's economy.
"On behalf of the state government, I am pleased to welcome Ofo's bike-sharing service to Melaka and look forward to this benefiting the community and creating a win-win situation for all parties."
Locked in a fierce battle in the domestic market, Ofo and Mobike, two major Chinese bike-sharing players, are now gearing up for global expansion. Ofo previously said it aimed to pedal to 200 cities in 20 countries by the end of this year. Mobike also announced plans to launch in 200 overseas cities by the end of this year.
Ofo has rolled out more than 6.5 million bikes in over 150 cities across seven countries, while Mobike has 6 million bikes in over 150 cities in countries including Singapore, the United Kingdom, Japan and Italy.