China's private sector regains strength on optimistic economic outlook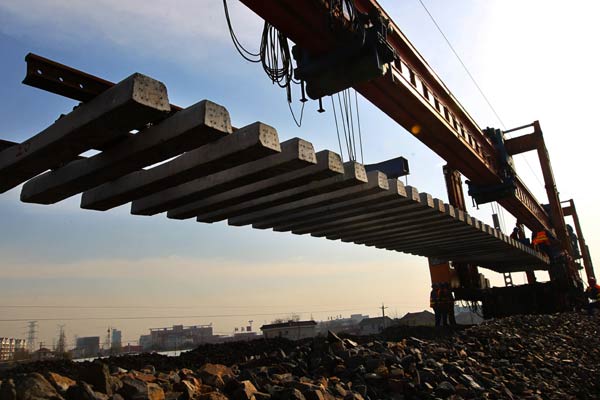 Rail tracks are laid on a route in Nantong, Jiangsu province. [Photo provided to China Daily]
BEIJING - Once a major worry for policymakers, China's private sector is gradually regaining momentum after a gloomy 2016, as businesses become more optimistic on the country's economic outlook.
In the first half of the year, fixed-asset investments by the private sector grew 7.2 percent year on year, accounting for 60.7 percent of total investment, according to data from the National Bureau of Statistics.
The growth was much higher than the 3.2 percent registered last year.
Across the country, 11 provinces and regions reported double-digit growth in private investment during the period, which analysts attributed to improvements in aggregate demand on the stabilizing economy.
China's economy expanded 6.9 percent for the first half of 2017, better than market expectations, which prompted global institutions such as the International Monetary Fund to raise GDP forecasts for the country.
The turnaround in exports also helped as private businesses invested heavily in manufacturing, an industry with low entry barriers and less government intervention, according to Tang Jianwei, researcher with the Bank of Communications.
China's foreign trade increased at its fastest pace since the second half of 2011, with exports in yuan-denominated terms up 15 percent year on year in the first half of this year.
The investment data was positive for China's economy as authorities feared downbeat sentiments in the sector, if continued, would hurt the country's long-term prospects.
Since China's reforms in the 1980s, private businesses have assumed a bigger role in driving growth. The sector now contributes more than 60 percent of China's GDP growth and provides over 80 percent of jobs.
But in recent years, activities in the sector have become less vibrant due to economic headwinds, higher labor and material costs, entry restrictions and financing difficulties.
In infrastructure and some service industries such as railways and healthcare, private investors have few chances to participate as state-linked companies still dominate.
More worrying, banks and financial institutions have a habit of leaning toward state-backed borrowers due to risk concerns, making it hard for private investors to access funds.
The trend has alarmed authorities, prompting the implementation of further measures to stimulate activities.
In the latest move, a State Council meeting last week pledged to streamline investment project approvals for private investors, and encourage them to participate in major projects as part of "Made in China 2025," modern agriculture, and enterprise technology updates.
The government will develop mechanisms to ensure private investment can enjoy reasonable returns in public-private partnership (PPP) projects, and the credit rating mechanism for private enterprises will be improved to make it easier for them to get loans.
As of the end of June, China had 13,554 PPP projects nationwide with investment of 16.3 trillion yuan ($2.43 trillion), according to data from China Public Private Partnerships Center.
While these efforts have boosted private investment, growth in the sector still lags behind that in the state sector, which expanded 12 percent in the first six months.
"China should expand reforms to improve the business environment for private investors [...] to allow them play a better role in facilitating China's restructuring," noted Zhang Jianping, an official from a research center under the Ministry of Commerce.