Airbus hires innovation center chief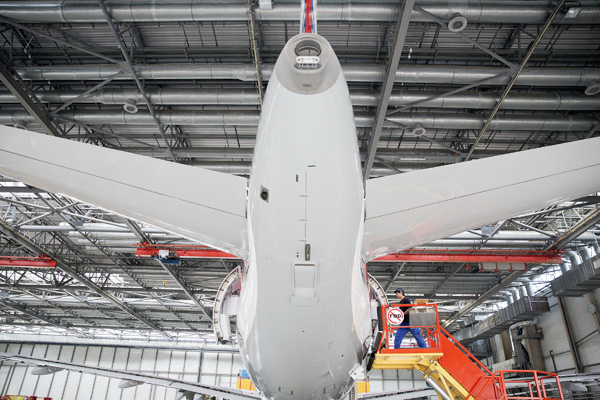 An employee works at the A320 family final assembly line of the Airbus plant in Tianjin. REUTERS
State-of-art facility aims to grab next big change to transform aerospace sector
European aircraft manufacturer Airbus Group SE will start operating an innovation center in China by the end of the year to support future products and services, as the plane maker looks to leverage local R&D capabilities.
Former Uber China executive Luo Gang has been appointed the CEO of Airbus' new innovation center, the company announced late on Monday.
Airbus said Luo spent nearly three years establishing Uber China's business before it was acquired by Didi Chuxing in 2016. It said his experience in London with UK startup Rangespan taught him how quickly technology can transform traditional businesses.
The statement said the location of the new Airbus innovation center will be announced later in the year.
Luo said China's fast-paced startup culture made it an ideal place for Airbus to create a new innovation center.
"China is now a powerhouse of innovation and has a strong and complete ecosystem, including hardware, software, artificial intelligence and others," he said.
He said extending this knowhow to aerospace would advance new ways of manufacturing.
In his role, Luo will report to Paul Eremenko, the chief technology officer of Airbus, who earlier said in Beijing that Airbus was experiencing a significant shift in its culture, as its mainly European-based engineers involved in research and technology are incentivized to engage more with the outside world.
"Our strategy is to assess global innovation hot spots for specific types of technologies, and develop a presence in these locations that allows us to interface with startups, universities, research laboratories and other partners," Eremenko said.
Airbus said its innovation center, which will focus on specific research and development areas, aims to grab the next big change to transform the aerospace sector, and will serve to strengthen the company's extended innovation ecosystem.
Lin Zhijie, an aviation industry analyst and columnist at carnoc.com, one of China's biggest civil aviation websites, said as one of the duopoly players, the competition was not fierce for Airbus in the global aviation market.
Lin said that it was easy for such companies to get slack and rigid if they did not keep innovating.