Citi: Financial market set to match US size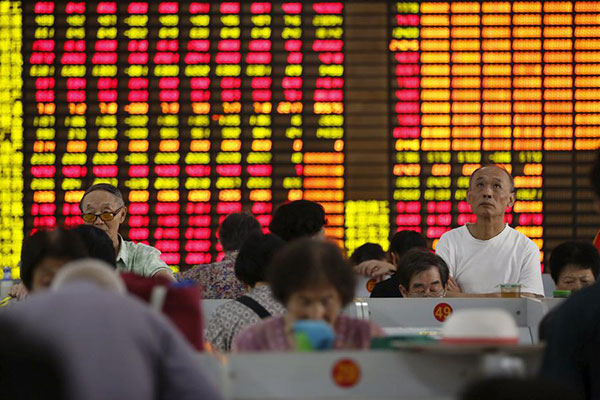 Investors look at computer screens showing stock information at a brokerage in Shanghai, Aug 13, 2015.[Photo/Agencies]
The Chinese financial market size will match that of the United States in 2025, according to a Citigroup Inc report.
More than $3 trillion in foreign capital will enter the Chinese financial market, it said.
Liu Ligang, chief China economist of Citigroup, said in the report that China has been transforming its financial market. The focus is on developing the domestic financial market rather than opening up the capital account.
The Shanghai-Hong Kong Stock Connect in 2014, the Shenzhen-Hong Kong Stock Connect in 2016, and the Bond Connect program this year represent the new approach, according to the Citigroup report.
"This year could be a turning point for global asset allocation," said Liu. "Removal of restrictions to entry, together with A shares' inclusion in the MSCI Emerging Market Index, will raise foreign ownership of Chinese assets, likely creating further momentum for market broadening and deepening."
The report said China's nominal GDP, which is unadjusted for inflation, will reach $28 trillion by 2025, compared with $26 trillion for the US, based on anticipated growth rates and a gradual appreciation of the yuan against the dollar.
Based on the historical relationship with GDP, US financial market size will reach $137 trillion by 2025, and that of China would be equivalent in yuan, the report said.
New capital totaling $3.4 trillion will flow into Chinese financial markets from abroad, with $779 billion going into the bond market, $200 billion into equities and $2.38 trillion into bank assets, it said.
"Global institutional investors would no longer have the option of staying away from China's markets if they wanted to achieve above-benchmark returns," Liu said. "China's capital market reforms in the next five to 10 years are reshaping global asset allocation."
Jing Ulrich, vice-chairwoman of JPMorgan Asia, said China has become a safe harbor amid global economic uncertainties, and foreign investors are actively participating in China's financial markets.
A-share inclusion in the MSCI Emerging Market Index is also an important milestone for China's equity market and may trigger a short-term rally due to increased expectations of fresh liquidity entering the onshore market, said Ulrich.
Bloomberg and Jiang Xueqing contributed to the story.