Experts say Foxconn pledge on US jobs hard to implement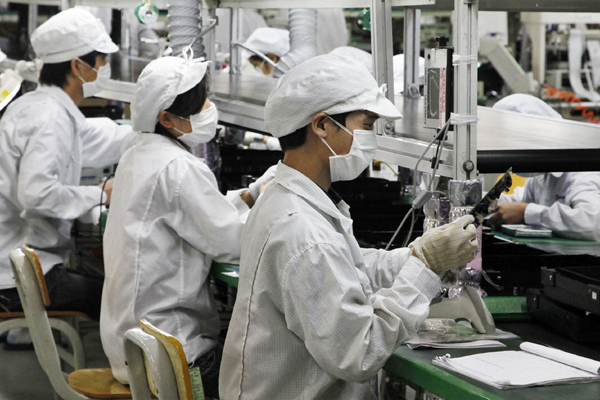 Employees work on the assembly line at a Foxconn plant in Shenzhen, Guangdong province.[Photo/BLOOMBERG]
Doubts have increased whether Asian tech giant Foxconn can fill the 13,000 new jobs it needs to start the $10 billion new plant it has pledged to build in the US state of Wisconsin.
"They're not going to get (the incentives) if they don't provide the jobs and don't provide the capital investment," Wisconsin Governor Scott Walker said on Thursday.
He was talking about his state's commitment to provide up to $3 billion in tax credits and other incentives to Foxconn over 15 years.
"We tie it to performance," Walker added.
Foxconn, the Taiwan-based manufacturer that makes electronics for Apple Inc's iPhones and other tech companies, announced the new plant in Washington on Wednesday at the White House, along with President Donald Trump, House Speaker Paul Ryan, who represents the state, and Walker.
On that same day, Amazon said it planned to hire 50,000 people at its US fulfillment centers, including a sprawling facility in Kenosha, not far from Foxconn's potential new sites.
Though the job growth and the byproducts of having Foxconn are "fabulous" for the state, Foxconn will "have its hands full" trying to find thousands of employees, Gus Ramirez, executive chairman of Husco International, a Waukesha manufacturer of automotive industry components, told Milwaukee Journal Sentinel.
"Obviously, 13,000 jobs all at once in a short period is challenging," said Patrick O'Brien, executive director of the economic development organization Milwaukee 7.
"But we have a higher than national share of IT and manufacturing workers," he said, adding that local educational institutions ranging from public schools to technical colleges and universities would stand up to meet the hiring demands.
O'Brien said that beyond the 13,000 jobs directly created by the plant, it would bring at least 22,000 indirect positions at suppliers and other employers, along with 10,000 construction jobs over each of the next four years, and 6,000 indirect jobs from the construction.
Foxconn will pay the new workers an average of $53,875 a year, plus benefits.
"If you offer enough money, you can get people to fill these positions," said Jason Dedrick, a professor at the school of information studies at Syracuse University.
"People come out with engineering degrees. Especially physicists, electrical engineers, and mechanical engineers; they have lots of opportunities and choices," he said.
"It's going to be very challenging, given that the job market is very tight nationally and in Wisconsin."
Steve Koenig, senior director of market research at the US Consumer Technology Association, was more upbeat.
"Wisconsin, in particular, has many great higher learning institutions that are capable of meeting the needs of such employers that locate in the area."
Zhang Ruinan in New York contributed to this story.