Citigroup expects China's GDP up 6.8% in 2017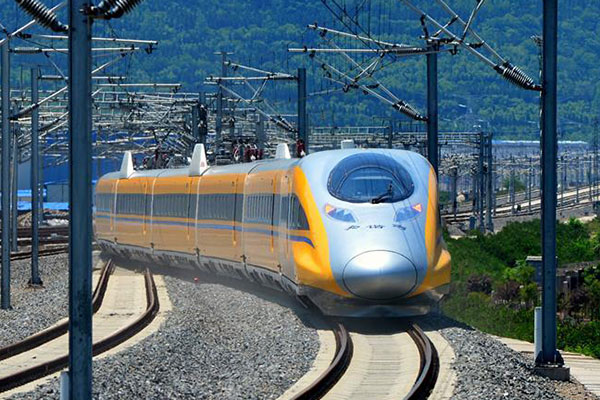 A test high speed train runs on the Baoji-Lanzhou high speed railway in Baoji, Northwest China's Shaanxi province, May 16, 2017. [Photo/Xinhua] 
Citigroup predicts China's GDP will increase 6.8 percent in 2017, and investment and consumption will be key forces to drive up the country's economy in the second half year, according to a report by financial media outlet Caixin.
The third and fourth quarter of this year will also rise 6.7 percent and 6.6 percent respectively, as stated by Citigroup at a conference in Hong Kong on Thursday.
"Investment continues to play an important role in economic growth from July to December, with investment in fixed assets expected to increase 8.9 percent by the end of 2017 from 8.6 percent in the first half," Liu Ligang, chief China economist of Citigroup, said while attending the economic outlook conference.
"Consumption is also one of the pillars to support economy."
In the aspect of the real estate market, Liu said it would bear downward pressure in the recent period among government efforts to regulate the market, and added real estate was not going to collapse in the medium term.
As China has a great trade surplus and export strength, more open capital market and optimistic treasury bond yields, the exchange rate of renminbi will be stable in the near future, according to Citigroup.
The company's forecast for RMB against the dollar will also move in the range of 6.7 to 6.9 in the second half of the year.
The latest data from the National Bureau of Statistics of China showed the nation's GDP grew at a faster-than-expected rate of 6.9 percent year-on-year in the first two quarters, well above the government's target for the year of 6.5 percent. The International Monetary Fund also revised up China's growth forecast for 2017, from 6.6 percent in April to 6.7 percent, on Monday.
In addition, Citigroup anticipated China's GDP growth rate of 2018 will reach 6.5 percent.
Tan Xinyu contributed to the story