COMAC tests second large aircraft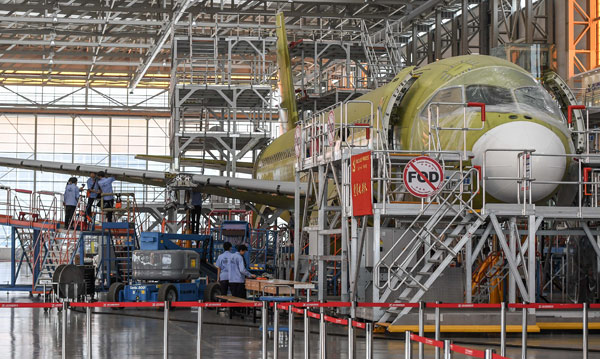 Engineers test a C919, China's first large passenger plane, in Shanghai on Wednesday. [Photo/Xinhua]
Shanghai-based COMAC, the company that produces the C919, China's first large passenger plane, will launch function testing of its second homegrown large aircraft soon, which is expected to have its maiden flight in the fourth quarter, official sources said.
The second C919 jetliner, coded 10102, was undergoing assembly testing at the assembly shop of Commercial Aircraft Corp of China Ltd on Wednesday, according to the Xinhua News Agency. Chinanews.com reported that C919's flight tests will include 729 items and may take as long as 4,200 hours.
You Liyan, an official from COMAC's flight test division, said six aircraft will be assigned to undertake different tasks to test the flight performance of the country's first homegrown jets. "Taking the second aircraft for example, it will be tasked to test engine performance," said You.
The C919 project was launched in 2006. Two years later, C919 maker Commercial Aircraft Corp of China was established in Shanghai, due to the city's technological advantages in the aviation industry and the maturity of the market.
A total of three aircraft models under COMAC are being pushed forward, including the regional jetliner ARJ21, the narrow-body passenger C919 aircraft and a wide-body aircraft to be jointly developed by China and Russia.
COMAC obtained a production license from the General Administration of Civil Aviation in early July for the nation's domestically produced regional jetliner, the ARJ21. The company has received 413 orders from 19 clients. Since the first 90-seat aircraft was delivered to Chengdu Airlines in late 2015, nearly 15,000 passengers trips have so far been made by the ARJ21.
The twin-engine, single-aisle C919 made its maiden flight on May 5, and is now in the process of applying for a flight certificate. The aircraft is designed to rival Airbus' updated A320 and Boeing's new generation B737, and it has received 600 orders from 24 customers at home and abroad.
With 158 to 174 seats, the C919 aircraft will be used for medium-haul flights after it becomes commercially operational.
According to its designers, the commercialization of the C919 will take two to three years before getting the required certification from the national aviation authorities.
China-Russia Commercial Aircraft International Co Ltd is a joint venture between COMAC and Russia's United Aircraft Corp launched in Shanghai in May. The JV will push forward the research, development, operation and sales of a wide-body aircraft in the next decade.
"Research and development for the 280-seat wide-body aircraft with a range of 12,000 kilometers was launched recently," said He Dongfeng, president of COMAC, at an aviation safety conference earlier this year.
Zhu Wenqian in Beijing contributed to this story.