IMF could be based in Beijing in a decade: Lagarde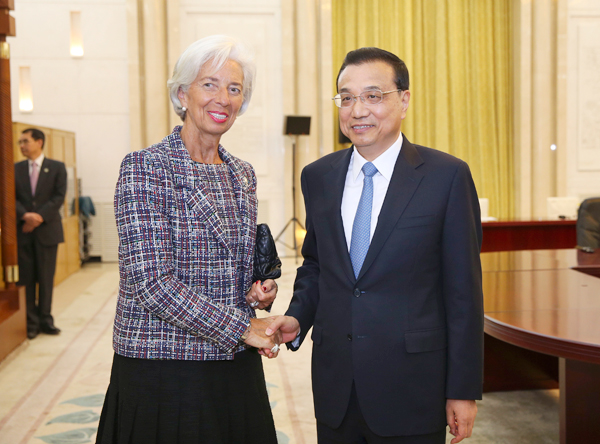 Premier Li Keqiang meets with Christine Lagarde, managing director of the International Monetary Fund, in the Great Hall of the People in Beijing on May 14, 2017. [Photo by Liu Zhen/China News Service]
WASHINGTON — The International Monetary Fund (IMF) could be based in Beijing in ten years, if the Chinese economy continues its growth momentum and the IMF continues to reform, IMF Managing Director Christine Lagarde said on Monday.
One of the top priorities for the IMF in the next decade is to better represent its member economies, said Lagarde at an event held by the Washington-based think tank Center for Global Development.
"To continue to be relevant, it (IMF) will have to be as representative as possible, and better than it is today of the membership," Lagard said.
"If the trends continue (in terms of growth), it would mean that some of the large emerging market economies which ... are at risk of being under-represented will be better represented in the institution," Lagarde added.
There's a possibility that IMF could have its head office moved to Beijing, if the Chinese economy continues its growth momentum and is better represented in the IMF, according to the IMF chief.
"If we have this conversation in 10 years' time ... we might not be sitting in Washington D.C. We'll do it in our Beijing head office," Lagarde said.
The IMF's bylaws call for the institution's head office to be located in the largest member economy.
The IMF put forward quota and governance reforms in 2010, but the reforms didn't become effective until the US Congress approved the plan in 2015.
The reforms doubled the IMF quotas and reallocated quota and voting shares in the IMF away from advanced economies, primarily in Europe, to growing emerging market economies.
The reforms are the biggest change in the governance of the IMF since its establishment, and are a recognition of the increasing role that emerging markets play in the global economy.
In December 2016, the IMF Board of Governors called on the executive board to work on a new round of quota review, aiming to complete the review by 2019.