Cooking up culinary treats in Shanghai bistro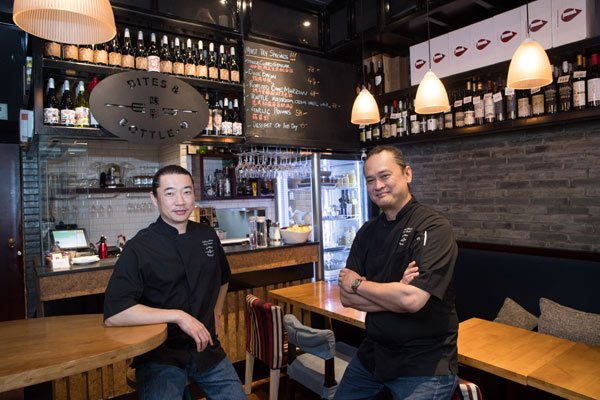 Australian Chinese Anthony Chow (left) and Singaporean Joey Cheong run a bistro in Shanghai, which offers a selection of tapas-style dishes from different cuisines around the world. [Photo by Gao Er'Qiang/China Daily]
Anthony Chow and Joey Cheong might lack culinary training, but that did not stop them from carving out a successful restaurant business in Shanghai.
They are the co-owners of Bites and Bottle-O, a cozy 20-seater eatery tucked away on Danshui Road, a quiet lane adjacent to the bustling Huaihai Middle Road.
The bistro offers a comprehensive selection of tapas-style dishes from different cuisines around the world, including foie gras, cured gravlax, roasted pork belly, black garlic hummus and even scallion oil noodles, a local favorite. Bites and Bottle-O also has a well-curated wine selection, comprising labels from Australia and Europe.
Jaded with life in the advertising sector, the self-taught chefs decided to quit their jobs in 2015 to pursue their passion for cooking. Despite their lack of experience in the food industry, they did not hesitate to wade into uncharted waters.
"It was definitely a risky move," Cheong said. "But having no professional culinary experience was actually more of a blessing than a curse-it meant we had to think and work harder than the rest.
"Also, the Shanghai food industry is very internationalized and vibrant," he added. "It's full of new, exciting concepts. I felt there was room for two self-taught chefs like us to carve a niche for ourselves."
Born in Sydney, Chow traveled to Shanghai in 1993 to learn Mandarin at Fudan University.
The trip also helped him discover more about his roots-his Shanghainese father emigrated to Australia in the mid-1950s.
Chow later found a job in the city as an account executive at multinational advertising agency J. Walter Thompson.
Cheong, a Singaporean, also used to be in advertising but at Ogilvy and Mather.
He first arrived in the city in 1995 on a job posting and met Chow a year later at Sally's, a now defunct bar that was popular with people from the advertising world.
The two hit it off over darts, pool and whisky, and soon discovered they shared a love for good food.
In 1999, they started whipping up meals for friends in Chow's bachelor pad in Hongqiao area. But what turned out as a hobby soon became a friendly rivalry as they constantly sought to outperform one another in the kitchen.
They then took their cooking to the next level by doing private culinary events for friends and associates before opening Bites and Bottle-O in 2015.
"We love the idea of Spanish tapas because there are so many different types of food on the table at the same time," Chow explained about the bistro's concept.
"We believe that a meal shouldn't be limited to just one or two dishes," he added. "We want people to be able to taste a combination of flavors."
The small eatery has grown in stature. The partners stressed that they have not had to invest a single cent into the business since it was launched.
Telephone reservations, they pointed out, increased by 50 percent to 6,000 a year after the restaurant opened.
Business has been brisk. On most nights, it is almost impossible to get a seat without a reservation.
The bistro's Sunday specials, which usually feature one classic hawker food from Cheong's home country Singapore, are so popular that they had to introduce two seating sessions.
This positive reception has in turn bolstered their confidence. They are now planning to open a second restaurant, called Umaami, in October.
Located in the Shanghai campus for WPP, a multinational advertising and public relations company, the new eatery is a whopping 10 times larger than their original bistro, and will serve an even wider variety of cuisines.
Despite the scale, Cheong is confident in their decision to go big, pointing out that the area Umami is located in does not yet have any notable restaurants.
"Taking into account our type of food and the location, I think this new venture is not that big a gamble to take," said Chow.
"Also, it's all down to quality. Diners in Shanghai are a sophisticated and discerning bunch," he added. "They are willing to pay for good food."