AkzoNobel looks to expand its capacity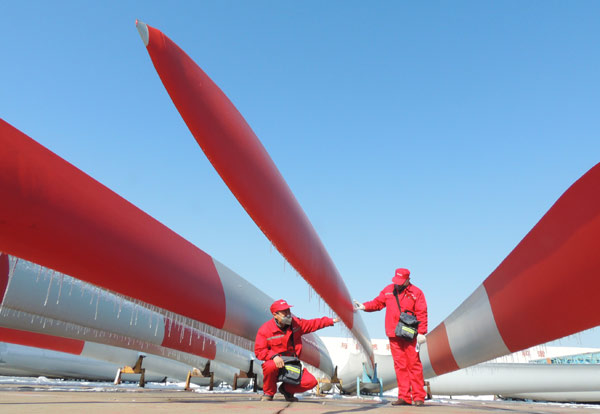 Workers check the quality of a batch of windpower blades at a the factory in Lianyungang, Jiangsu. AkzoNobel is using more and more renewable energy in production. [Photo by Geng Yuhe/For China Daily]
Chemicals and coatings giant AkzoNobel said it is a perfect fit to help China boost its green development and innovation and is looking at further expanding its capacity in the country.
Marcel Galjee, energy director of AkzoNobel Industrial Chemicals, said the Amsterdam-headquartered company is in prime position to push Chinese green development and innovation and China is always a firm part of the company's strategy.
"China is at the core of our strategy for future growth and our commitment in China is strong," Galjee told a media briefing during the eighth Clean Energy Ministerial in Beijing, the annual meeting of energy ministers and other high-level delegates from 24 member countries and the European Union.
"With the current development China is engaged on, we are of course looking at expansion and opportunity for growth."
Luo Ke, AkzoNobel's communications manager of China and North Asia, said the company has been consistently investing in China since 1980.
"China is playing an ever significant role in the global market for AkzoNobel, and has become the second biggest strategic market for AkzoNobel," said Luo.
China now plays home to AkzoNobel's biggest single workforce, with 7,600 people accounting for 17 percent of a total of 46,000 employees worldwide. The company also reported revenues of 1.76 billion euros ($2 billion) last year in China, making the country its second biggest market.
AkzoNobel has set up 30 factories in the country, tapping into the considerable supply of local talents who help in the research and development of products for the Chinese market.
"The performance in China looks good and the outlook is just as bright," she said.
"We have been able to reduce our carbon emission since 2012."
According to Galjee, the company's current energy portfolio currently comprises 40 percent renewable energy, while by 2050 it aims to be completely carbon neutral.
"Despite not being able to buy renewable energy in China now, we now see some changes in regulations that will enable the procurement of renewables," he said.
"We are anxiously following and waiting what the regulation will bring. We really hope we can get the opportunity to show the leadership what we have and the experience from other countries," Galjee said.
"The company is also looking for other local partners to team up with, for joint development."
Galjee said his group believed the strategies China had drawn up were strategies that AkzoNobel as a company could take part in and help improve in the country.