Survey: Economy expands in June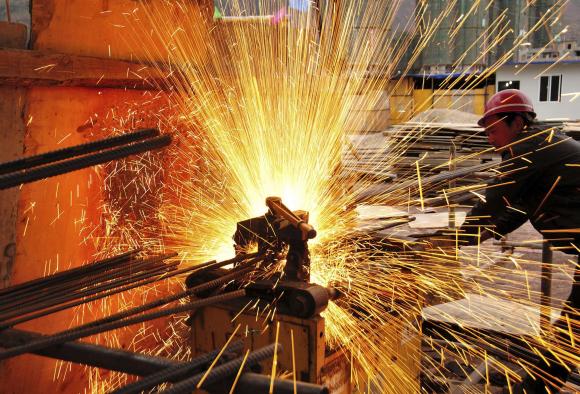 A worker welds at a construction site in Yiliang, Yunnan province, February 28, 2015.[Photo/Agencies]
China's manufacturing sector resumed its expansion in June, according to a key private survey, which analysts say tends to confirm stabilization in the world's second-largest economy despite some domestic financial tightening and unstable markets abroad.
The Caixin/Markit Manufacturing Purchasing Managers Index came in at 50.4, up from 49.6 in May, the fastest pace of growth in three months, according to survey results released on Monday.
A reading above 50 signals expansion, while one below 50 indicates contraction.
The rise in the Caixin PMI was mainly driven by output and new orders. The subindex of prices also rose quickly, according to Caixin Media, the provider of the index. Total new orders rose to 51.0, the highest level in three months, up from 50.3 in May, with new export orders also increasing.
The rate of expansion in output quickened in June, and job-shedding eased to its slowest pace in three months, according to Caixin.
Results of the Caixin PMI, which surveys about 500 smaller private companies, especially in China's eastern coastal areas, are in line with the June PMI reading released by the National Bureau of Statistics, which surveyed about 3,000 larger enterprises in various industries, including State-owned companies. The NBS survey set June manufacturing PMI at 51.7, up from 51.2 the previous month.
"Based on the current situation, China may be bottoming out," said Zhang Liqun, an economist in the Development Research Center of the State Council, China's Cabinet.
China achieved year-on-year GDP growth of 6.9 percent in the first quarter of this year, well above its preset target of about 6.5 percent for the year. However, some analysts remained unsure how the Chinese economy would fare this year and said that GDP growth in the first three months was simply unexpected and that it would fall in coming quarters.
The June PMI reading "was more like a rebound, with an economic downtrend likely to be confirmed later", Zhong Zhengsheng, director of Macroeconomic Analysis at CEBM Group, said in a note after the release of the Caixin PMI.
Bank of China International, the bank's investment banking arm, said that based on economic data available so far, such as PMI, China's growth in the second half of this year may be higher than market expectations.
"We should not be pessimistic about the Chinese economy in the second half," it said in a research note.
The IMF recently raised its forecast of China's GDP growth for this year to 6.7 percent from the previously predicted 6.6 percent.