Ma puts Alibaba on global road to riches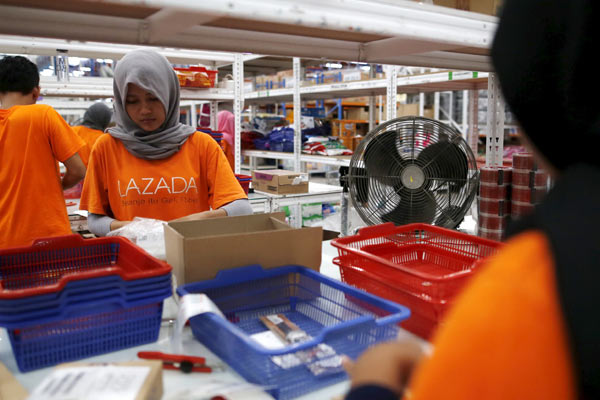 An employee at online retailer Lazada fills an order at the company's warehouse in Jakarta, Indonesia. [Photo/Agencies]
SHANGHAI — Jack Ma has a big reputation in China. Now, he aims to make sure Alibaba Group Holding Ltd has a big presence in Southeast Asia.
The founder of the e-commerce giant has made no secret of his plans to turn it into a truly global business. And the pieces behind that dream are starting to fall in place.
Indeed, Alibaba illustrated its ambitions by investing another $1 billion to raise its stake in online mall Lazada Group SA to 83 percent.
This made sure Ma's online behemoth secured control of a fast-growing company at the vanguard of its Southeast Asian expansion plans.
Alibaba is buying out most of the backers in a deal which values the Singapore-based startup at $3.15 billion.
The management team and Temasek Holdings Pte are the only remaining investors left after Rocket Internet SE and Investment AB Kinnevik sold their shares last week.
Previously disclosed backers included supermarket chain Tesco Plc, which is based in the United Kingdom.
Last year, Alibaba took a sizeable stake in Lazada from Rocket in a $1 billion deal-its largest overseas move to date.
The company was started by Maximilian Bittner, who became chief executive officer, in 2012. But it is now pivotal to expanding Alibaba's retailer's foray abroad.
Lazada's home turf is shaping up to be the next battleground for Ma's group and main Chinese rival JD.com Inc and global giant Amazon.com Inc down the road.
While still lacking the transport and payment infrastructure crucial to the widespread adoption of e-commerce, the region has become the world's fastest-growing internet arena.
"Obviously this allows Alibaba to expand its global footprint, giving them unrivaled access to users," Bittner said.
"E-commerce penetration in Southeast Asia is only roughly 3 percent, so the partnership is a great step change," he added.
Lazada is a key part of Alibaba's global expansion plans. They have collaborated during the past year, and now have unrivaled access to approximately 560 million consumers in Indonesia, Malaysia, the Philippines, Singapore, Thailand and Vietnam.
On the logistics front, Alibaba-backed courier Cainiao, together with Lazada, will set up an e-commerce hub at Kuala Lumpur International Airport in Malaysia as a part of the duty free trade zone.
By 2019, the NASDAQ-listed online group will roll out a major logistics hub in Thailand to increase its presence in the region.
As for global rival Amazon, it has yet to make a play for Southeast Asia. But industry insiders expect the company to pitch up there as early as this year.
Now that Alibaba has established its dominance of China and Amazon has taken the lead in the United States, both are looking to make their mark overseas.
JD.com, whose preference for building its own distribution network more closely mirrors Amazon's, is also rumored to be in talks to invest hundreds of millions of dollars in Indonesian online marketplace Tokopedia.
"Yet Lazada's long-term success in the region is far from assured as Amazon is eyeing a launch in Southeast Asia through Singapore," said Jeremy Kressmann, an analyst at eMarketer.
"The moves could kick off a heated battle between Amazon and Alibaba's proxy for both market share and customers as the region's e-commerce spending rises," he added.
Despite its sheer scale, Alibaba still derives most of its revenue from China. Still, it has been the most aggressive player in Southeast Asia.
It is amassing a regional presence in anticipation of Amazon's eventual entry.
Ma even traveled to Kuala Lumpur in March to declare Malaysia its first logistics hub outside of China, a centralized warehousing and distribution launchpad for the region.
Next door is Indonesia, the world's fourth-most populous nation, and considered among the most promising markets in Southeast Asia.
The country draws comparisons with China a decade ago, with its lack of retail infrastructure, an exploding mobile-user base, and a growing middle-class craving leisure and quality goods.
Lazada is positioned to help Alibaba break into that market as it runs about a dozen warehouses and scores of distribution centers from which it conveys goods directly to buyers.
"Lazada properties drew the largest number of page views among B2C (business to consumer) retail sites in Thailand, Indonesia, Singapore, Malaysia and Vietnam in December, 2016," data released by SimilarWeb, a digital market intelligence company, stated.
Although the company is competing against well-funded rivals from MatahariMall to Sea Ltd, CEO Bittner believes Lazada can count on Alibaba's expertise.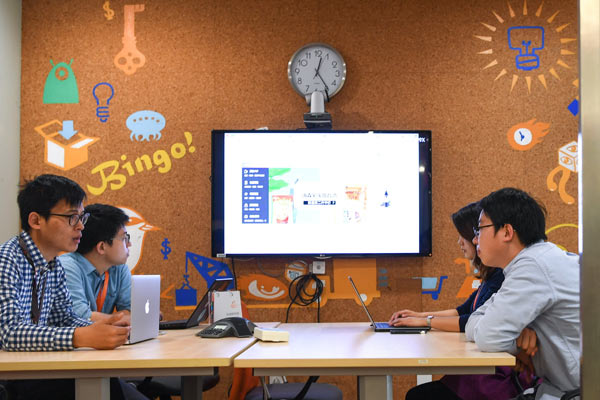 Staff hold a teleconference at Alibaba Group Holding's headquarters in Hangzhou, Zhejiang province. [Photo/Xinhua]
Earlier this year, Lazada introduced Alibaba's Taobao online bazaar to Singapore via a dedicated website.
It has so far provided scale, e-commerce know-how and technological expertise to support the Singapore company's efforts.
That has allowed Lazada to invest further in the marketplace, through technology, payments and logistics, enhancing its services and customer experience.
Alibaba has also helped Lazada create an online loyalty and services program that offers UberEats and Netflix along with free deliveries from Alibaba's Taobao and online grocer Redmart.
"It was the first time that US companies have jointly created an online rewards program," Bittner said.
For Alibaba, the move makes sense as it stakes an early claim in a market with enormous potential.
"The e-commerce markets in the region are still relatively untapped, and we see a very positive upward trajectory ahead of us," Daniel Zhang, chief executive officer at Alibaba, said in a statement.
"We will continue to put our resources to work in Southeast Asia through Lazada to capture these growth opportunities," he added.
Agencies-China Daily