Bond trading link is coming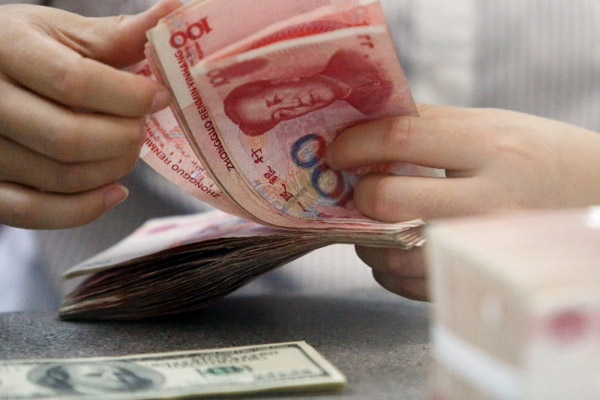 A worker counts Chinese currency renminbi at a bank in Linyi, East China's Shandong province, Aug 11, 2015. [Photo/Xinhua]
Overseas investors are pinning high hopes on the first trading link for bonds between the mainland and Hong Kong, as the government makes the final preparations for the mega scheme that makes its $10 trillion mainland debt market more accessible.
Though regulators have not explicitly revealed when the long-anticipated "Bond Connect" will officially begin, it is expected to be announced and launched as soon as July 3, as a fitting tribute to the 20th anniversary of Hong Kong's return to the motherland.
Echoing remarks from Zhang Xiaohui, assistant governor of the People's Bank of China, that bond connect is "technically ready" at the moment, Hong Kong Exchanges & Clearing (HKEx) Chief Executive Li Xiaojia said on Thursday in Hong Kong that everything is all set except a final push.
Overseas investors are betting big on the scheme, which is built on the concept of the two existing stock connects and helps to make the mainland's massive capital markets more global.
"The investor appetite has improved since regulators gave the green light to the cross-border bond trading system in May," said James O'Sullvian, Hong Kong-based head of securities services at Standard Chartered Bank.
The trading mechanism, known for its simplified application process and automated trading, has what it takes to satisfy international investors, O'Sullvian noted.
"Regulators have done a fantastic job to simplify the whole process, freeing overseas investors from mountains of paperwork," O'Sullvian said. "Moreover, they have enough foresight to introduce the automation into the trading platform, which proves to be the key to attract international investors."
"I would use the word 'revolution' rather than 'evolution' to describe the landmark program. It is probably the most important milestone that everyone is looking for to access the vast Chinese mainland market," said Ivan Nicora, chief executive officer at Euroclear Hong Kong.
Nicora views the bond connect, allowing international and Hong Kong investors to trade onshore bonds, as a "directional revolution" that would bring "fundamental changes" to the world's third-largest bond market where overseas ownership remains less than 2 percent.