Summer Davos in Dalian attracts record participation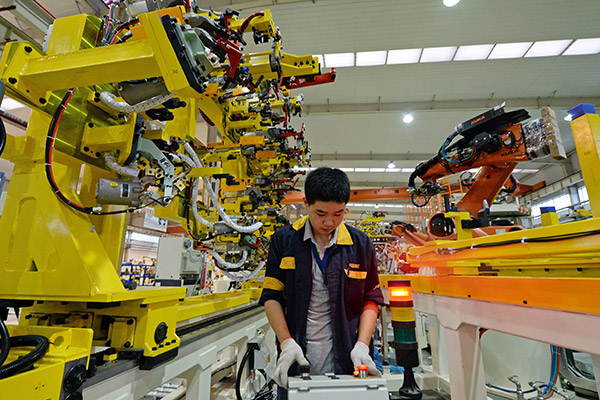 A technician of an industry park in Hefei, Anhui province, tests welding equipment to be exported to Belarus. [Photo/China Daily]
Annual summit on innovation, science and tech gears up for brainstorming
The 11th Annual Meeting of the New Champions to be held in China-also known as the Summer Davos-is gearing up for record participation with over 2,000 participants and media registered to attend, according to the international forum's organizers, the Swiss-based World Economic Forum.
The higher level of participation showed the extremely strong interest and support for the gathering of business and other leaders, said David Aikman, chief representative officer for China at the WEF.
Over 2,000 prominent leaders from politics, business, civil society, academia and the arts will convene in China's northeastern coastal city Dalian from Tuesday to Thursday. The participants are from84 countries and regions, 56 percent of them from overseas.
"We see that this is a truly global meeting," said Aikman, during a news conference in Beijing last week.
Aikman said the WEF had purposely positioned the gathering to be the foremost global summit for the next generation of multinational companies.
This meant its efforts were directed particularly towards the "disruptive" and next-generation corporations, and how the WEF could apply their excellence in technology, science and innovation to solving the challenges that were identified and prioritized during the Winter Davos in January.
Under the theme "Achieving Inclusive Growth in the Fourth Industrial Revolution", the meeting will examine the potential for innovation, science and technology to create economies that serve all sectors of society.
Established in 2007, the Summer Davos has become a key gathering on science, technology and innovation.
According to Aikman, technology and innovation have a huge role to play in helping to build societies that are resilient, prosperous and inclusive.
He said the Annual Meeting of the New Champions was unique not only in its ability to equip leaders with insights needed to successfully navigate this period of change, but also in the way it convenes leaders from across all stakeholder groups.
"We hope the meeting provides leaders with a platform to build meaningful, multi-stakeholder partnerships to address the critical challenges our world faces," he said.
Liang Linchong, deputy director-general of the International Cooperation Department at the National Development and Reform Commission, said the theme of this year's meeting reflected the strong will of the international community to share opportunities and face the challenges arising from technological innovation together.
"We expect the discussions and insights on the impact of the Fourth Industrial Revolution to bring us valuable inspiration and suggestions on how to build the world economy to be more creative, inclusive and sustainable," he said.
Lu Lin, vice-mayor of Dalian, said the meeting was an important platform for the city, which has hosted five of the last 10meetings.
The 2017 program focuses on four themes that will shape over 200 sessions over the three-day meeting. These include focusing on scaling up human-centered technology, leading continuous reinvention, creating sustainable systems and responding to geo-economic shifts.