Banking regulator vows to curb property bubbles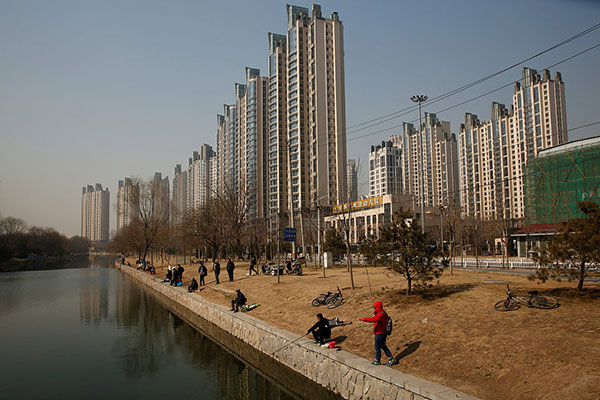 People fish on the bank of a canal in front of apartment blocks in Beijing, Feb 27, 2017.[Photo/VCG]
The China Banking Regulatory Commission on Friday reiterated its determination to contain property bubbles in "some" regions, Securities Daily reported.
Guo Shuqing, chairman of the banking regulator, urged banks to carry on differentiated mortgage loan policies to reach this goal during a visit to the Agricultural Bank of China in Beijing.
All of the 15 first-tier and second-tier cities surveyed saw slower year-on-year price rises in May, and nine of them also saw month-on-month price declines or flat prices, according to National Bureau of Statistics.
New residential house prices in Shenzhen, a southern metropolis neighboring Hong Kong, fell 0.6 percent month on month in May, while house prices in Beijing and Shanghai remained flat in May from April.
Some banks in Beijing have even raised mortgage rates further for first-time home buyers, following tightened lending policies exposed on second-time home buyers effective as of March 17. Currently, down payment for second-time home buyers is at least 60 percent of their home price in Beijing and the interest rate is 20 percent above the benchmark.
Early in June, China Minsheng Bank and Bank of Beijing, adjusted mortgage rates to 10 percent above the benchmark mortgage rates for first-time home buyers in Beijing.
A report, titled 2017 Global Investment Survey, showed that 74 percent of Chinese investors have property, while the average property ownership in Asia, excluding Japan, was only 57 percent.