Ma maps out vision of Silicon Valley in Greater Bay Area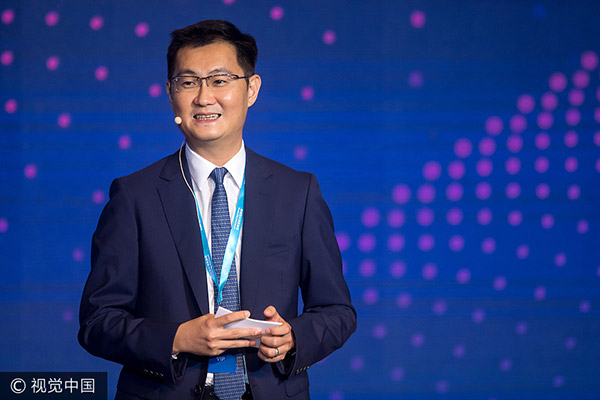 Ma Huateng, chairman and chief executive officer of Tencent Holdings Ltd, speaks during the Guangdong-Hong Kong-Macao Greater Bay Area Forum in Hong Kong, China, June 20, 2017. [Photo/VCG] 
Billionaire Pony Ma Huateng has called for the Greater Bay Area of Guangdong, Hong Kong and Macao to be turned into China's Silicon Valley and a "mecca for talent".
The chief executive officer and co-founder of online giant Tencent Holdings Ltd made it clear he would like to see more policy support for the plan at the Guangdong-Hong Kong-Macao Greater Bay Area Forum in Hong Kong on Tuesday.
Ma felt governments in the area should switch from being competitive to collaborative and join forces to attract the best global talent in high-tech businesses.
"We know very well how much of a headache it is for our staff commuting between Hong Kong and the Chinese mainland every day," Ma said, referring to the time spent at border checkpoints.
With that in mind, he urged governments in Guangdong, Hong Kong and Macao to build the bay area into a "talent mecca" or China's equivalent to Silicon Valley in the United States.
"Working and living in the Greater Bay Area today remains quite different from what it would be like in Hong Kong and Macao," he said.
"Talent in the two SARs (special administrative regions) still have to count the days to avoid staying in the mainland for more than 180 days within a year," Ma added. "Otherwise, they will be taxed at the higher mainland rate."
Founded in Shenzhen, Guangdong province, in 1998, Tencent was listed in Hong Kong in 2004 with two thirds of its workforce living in the Greater Bay Area.
Naturally, Ma has become a strong advocate for a concrete plan, which included a headline grabbing proposal at the National People's Congress meeting in Beijing in March.
At this week's forum in Hong Kong, he put forward the idea of a "green card" for top-notch talent to reduce their travel time at border checkpoints between the mainland and the two SARs.
He also suggested tax subsidies for highly skilled workers based in Hong Kong and Macao but operating in Guangdong.
"The proposed efforts would polish the bay area's brand as a place for high-end talent from across the world," Ma said. "Otherwise, people may vote with their feet and migrate to other jurisdictions."
The first Guangdong-Hong Kong-Macao Greater Bay Area Forum, co-hosted by the China Development Institute and One Country Two Systems Research Institute, and supported by Tencent, attracted more than 400 policymakers, business leaders and academics from across the world.