Fast food for sophisticated shoppers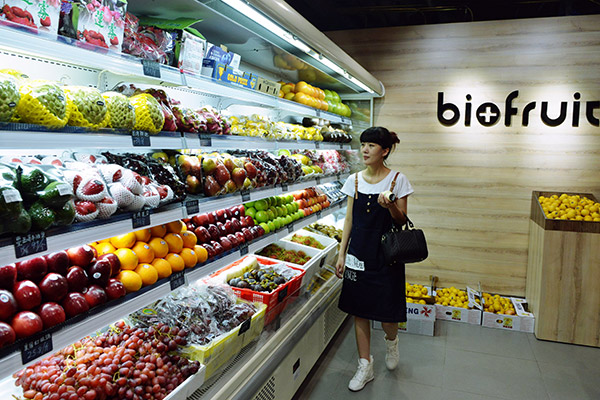 A woman selects fruits at an imported food store in Hangzhou, Zhejiang province. [Photo/China Daily]
Sophisticated shoppers want more from their online grocers than cheap bargains.
When they cruise the web now, middle-class Chinese consumers are looking for the authentic taste of fashionable global foods such as Alaska salmon or Maine blueberries.
They are also willing to pay for them.
"A decade ago the key to success for a foreign brand in China was to adjust to local tastes," said Lu Libin, general-manager for Thai Union Group Pcl in China. "But that is not the case now."
One of the leading seafood vendors in Thailand, the group is making massive strides here as they ride the wave of a consumer boom.
Apart from high-end supermarket chains, Thai Union is also teaming up with Alibaba Group Holding Ltd's Tmall and JD.com Inc.
"They are the most critical channels nowadays to boost sales in China's cosmopolitan cities," said Lu, adding that the company's global sales reached $3.7 billion last year.
Jumping on the health-kick bandwagon adored by Chinese households, the food company decided to introduce its premium King Oscar brand early this year.
On the menu are a variety of ready-to-eat Thai shrimp and salmon meals, tailored for Chinese professionals with a modern, fast-paced life-style.
"People crave for an original experience from the place of origin and it's important to deliver it to them," Lu said.
Tao Jiang, general manager of Grohe in China, echoed those views.
She stressed that the German high-end bathroom and kitchen company believes e-commerce is critical to boosting sales in China.
"As e-commerce becomes the new norm, a growing number of high-net-worth people shop online," Tao said. "Merchants should embrace that trend and create more personalized products."
Using big data has become vital in tracking this trend.
In fact, it is a crucial pillar of the information industry, and is used to crunch vast amounts of complex statistics to show patterns in business and consumer habits.
Big data analysis is a key card for e-commerce companies when they position seasonal products. Likewise, online merchants are moving toward consumer-driven product development.
Global giant Unilever has adopted a live-stream game show video to promote its soaps and shampoos, while technology can now distinguish regular shoppers from new ones, according to Alibaba's news portal Alizila.
It also displayed tailored product information for customers browsing Unilever's internet stores. "The average time spent at the company's virtual stores grew by 26 percent in the first two weeks of using such technology," Alibaba reported.