Salary for fresh graduates continues to rise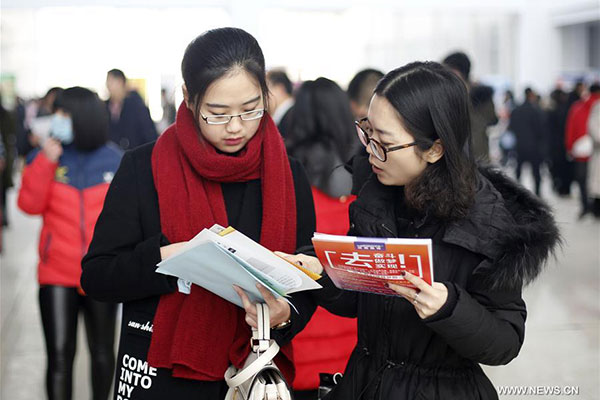 People attend a job fair in Hengshui, North China's Hebei province, Feb 13, 2017.[Photo/Xinhua]
Fresh university graduates earn an average 4,376 yuan per month, 30 percent higher than their counterparts five years ago, a recent report showed.
The report released on Monday by MyCOS Research Institute, specializing in higher education management data analytics, shows that knowledge-intensive industries, such as education, finance and information continued to hire more graduates in 2016, in contrast to the employment decrease in labor-intensive industries like construction and manufacturing.
Last year's top three majors with the highest employment rate were software engineering, project management and constructional environment & equipment engineering, according to the institute.
"Graduates' employment rate has been generally stable over the last five years, fluctuating not beyond one percentage point," said Guo Jiao, deputy director of MyCOS.
Pursuing further study and becoming self-employed are two factors contributing to the steady employment rate, the report noted.
As graduates receive three years of work experience, their income will have an obvious rise amidst gaining momentum. Guo adds that without CPI's influence, the monthly income of university graduates increased 20 percent from 2012 to 2016, and 22 percent for higher vocational college graduates in the same period.
This is the ninth report on Chinese graduate employment since MyCOS issued its first in 2009. The study was based on data from graduates of 2016, who have been off campus for six months upon 2017.
The result indicates that demand for majors in software engineering, network engineering and communication engineering remains high in the past three years, while the employment rate in fields such as musical performance, fine arts and legal affairs are at a warning level.
As for those majors with negative performance in the employment market, Wang Boqing, president of MyCOS, said that it may be caused by oversupply or unqualified talents that don't match market needs.
Tan Xinyu contributed to this story.