Private banking boom in China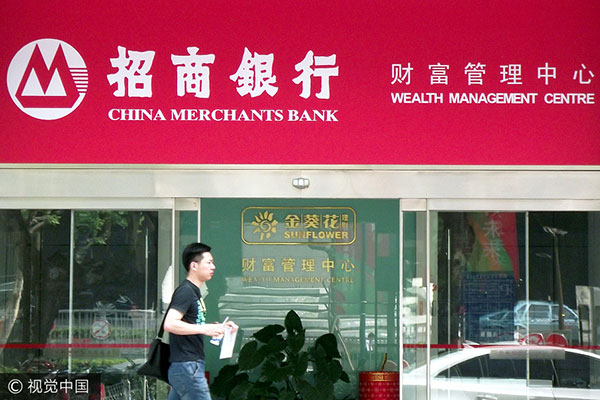 A man passes by a wealth management center of China Merchants Bank in Nanjing, capital of Jiangsu province.[Photo/VCG]
With the rapid growth of personal wealth, China has become world's second-largest wealth management market, which has brought opportunities and challenges for private banking business, the Investor Journal reports.
Private banking, as one of the high-end financial services, consists of banking, investment and other financial services provided by banks to high-net-worth individuals (HNWIs), with assets available for investment exceeding $1 million.
According to a report released by PY Standard, a financial planning data provider, 22 commercial banks provided private banking business in China at the end of 2016.
Of those, three banks' assets under management exceeded 1 trillion yuan – China Merchants Bank, with total assets under management of 1.6 trillion yuan, ranked first, which was followed by Industrial and Commercial Bank of China (1.2 trillion yuan) and Bank of China (1 trillion yuan).
Last year, the number of domestic private banking clients totaled 570,000. Bank of China had the largest amount of private banking clients (95,000), and Industrial and Commercial Bank of China, followed by Agricultural Bank of China, ranked second and third respectively.
Most of the clients of the banks were aged 40 and above, private entrepreneurs and female, the newspaper said.
Banks usually offer similar products and services, such as family wealth management and global asset allocation, to private banking clients.
However, with their demand for customized products and services slated to grow, private banking has huge room for development in terms of providing comprehensive trans-sector, trans-product and trans-border financial services.