China crude steel output up 4.6% in Q1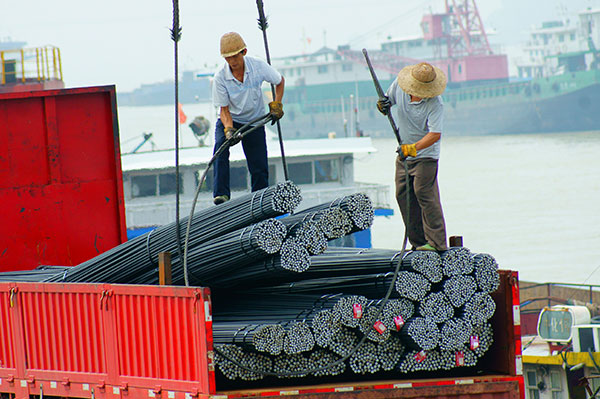 Workers load steel products at a logistics park in Yichang, Hubei province. [Photo/China Daily]
BEIJING - China's crude steel output grew 4.6 percent year-on-year to 201.1 million tons in the first quarter of 2017, an industry association said Wednesday.
In the first three months, China's steel exports declined 25 percent year on year to 20.73 million tons, the China Iron and Steel Association said in a press release.
Steel exports to the United States plunged 51.76 percent year-on-year in 2016 to 1.17 million tons, accounting for 1.08 percent of China's total steel exports.
Wang Yingsheng, deputy secretary general of the association, said the US stance on investigating steel imports would not exert much influence on China's steel industry.
In the first quarter, sales revenues of China's steel companies rose by more than 40 percent year-on-year to hit a total of 839.3 billion yuan ($122 billion).
China's over-supplied steel sector has experienced years of plunging prices and factory shutdowns due to a sluggish economy. However, with an upward trend in prices since the start of 2016, many steel mills are resuming production.
The central government has reiterated that cutting overcapacity is high on its reform agenda in 2017 as excess capacity in sectors such as steel and coal has weighed on the country's economic performance.
Its 2016 target to cut 45 million tons was achieved ahead of schedule.
China plans to reduce steel output by an additional 100 million to 150 million tons by 2020.