Terrific warriors of high-tech Xi'an script exciting future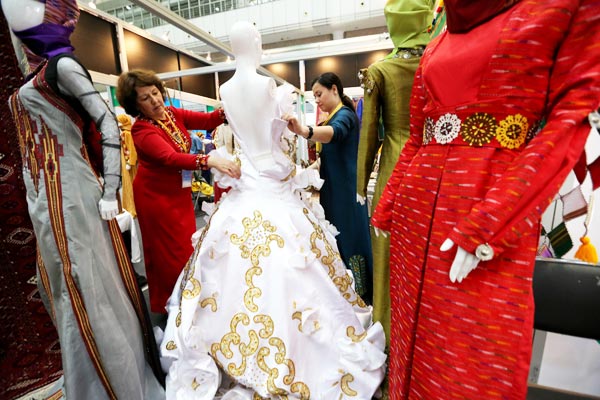 Turkmenistan exhibitors drape a model with a dress that reflects the country's cultural and fashion elements at an international trade expo in Xi'an, Shaanxi province, in 2014. [Photo by Jiang Dong/China Daily]
The Xi'an High-tech Industries Development Zone is speeding up efforts to build itself into an international production base of high-tech industry in the next three to five years, senior officials said.
The 35.67-square-kilometer area based in Xi'an, Shaanxi province, is a "crucial support" for the national pilot free trade zone, as it has been attracting talents and optimizing administrative services, said Yang Renhua, director of the zone's administrative committee, recently in a meeting.
Xing Xin, the committee's deputy director, said this year the high-tech zone will place emphasis on building a complete semiconductor industry chain with global influence, and focus on life sciences, robotics and internet security sectors.
The plan is part of strategies developed by the China (Shaanxi) Pilot Free Trade Zone unveiled in early April, one of seven new FTZs approved by the State Council, together with those in Liaoning, Zhejiang, Henan, Hubei, Chongqing and Sichuan.
Located in the middle of the country, the pilot zone covers 119.95 square kilometers in Northwest China, and is set to further promote local economic and cultural cooperation with Belt and Road Initiative countries and regions.
Guorui Properties Ltd, a Hong Kong-listed real estate developer, has been working on a 350-meter-high office building in Xi'an high-tech zone in the northwestern province. Li Cheng, general manager of the company's Xi'an office, said the decision to move in here is linked to belief that the city's development will be fueled by FTZ-related preferential policies.
Li said the project is poised to facilitate the policymakers' efforts to deepen the city's links with the world, and attract more Fortune 500 enterprises.
As the backbone of Xi'an FTZ, the high-tech area is expected to spend 6 percent of its overall planned investment on research and development by 2020, according to a local development plan.
There is impressive data showcasing the achievements of the High-tech Industries Development Zone.
By 2016, 1,184 foreign-funded companies registered in the zone, accounting for 50 percent of the foreign firms in the city. The area is also home to 1,272 financial institutions, according to Yang.
Last year, firms in the zone generated a combined 1.37 trillion yuan ($198.80 billion) in revenue, which helped boost the zone's GDP by about 12 percent, 3.4 percentage points higher than the city's average. The zone's foreign trade volume amounted to 151.8 billion yuan, or 83 percent of the city's total, Yang said.
FTZs refer to areas that enjoy preferential policies, more favorable taxes, easier customs clearance, and simpler business applications.
Contact the writer at jingshuiyu@chinadaily.com.cn