Recovering Caterpillar set to fly with its Chinese partners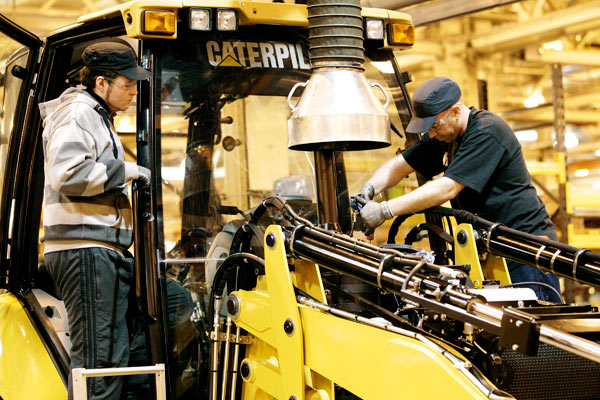 Employees assemble a heavy machine at a Caterpillar production plant at Desford in the United Kingdom. [Photo/Agencies]
Caterpillar Inc will continue to facilitate Chinese indigenous partners on projects along the Belt and Road economies, said one of its top executives.
The US' largest machinery manufacturer is planning to organize a group of Chinese large contractors to go on an inspection tour of Africa and the Middle East later this month, where Caterpillar owns mature dealership networks and rich resources, according to Chen Qihua, its vice-president.
Chen said the initiative will benefit the company's efforts to promote interactions between Chinese contractors seeking overseas opportunities and service providers along the ancient trading routes.
"The core of the Belt and Road Initiative lies in bringing interconnectivity to the ancient trade routes through infrastructure construction. That's exactly what Caterpillar is delivering on all fronts," Chen said in an interview with China Daily in Beijing.
With a presence in over 180 countries and regions, Caterpillar has 172 dealers worldwide, as well as longstanding manufacturing bases and service stations. Markets outside the United States roughly generate 59 percent of its revenue.
In the past three years, China has forged about 50 government-level cooperation agreements in the Belt and Road countries and regions, according to the National Development and Reform Commission, the country's top economic planner.
Outbound investments in these economies are worth over $50 billion and have resulted in better-than-expected achievements, He Lifeng, NDRC minister, told a news conference in March.
Caterpillar can take some credit for that. The leading manufacturer of construction and mining equipment accelerated its pace of assisting Chinese partners in the Belt and Road economies since last November, when it proposed in a white paper diverse models of cooperation, including dealership networks and financial services.
Among the landmark projects was China Road and Bridge Corporation's reconstruction of the M5 highway (Zhrobin-Gomel section) in Belarus in 2015.
The 86-kilometer highway innovation was CRBC's first project in the country, and Caterpillar offered machinery, training and maintenance services for it.
Chen said the company is pinning its hopes on the Chinese market this year, as the country's improving infrastructure and mining sector increase demand.
In its latest financial report, Caterpillar predicted a "modest recovery" in several of its businesses in 2017. The report said its construction industries will be fuelled by sales in China, which began recovering last year.
The construction industry's sales in the Asia-Pacific region outperformed other areas in the fourth quarter of 2016, thanks to rising end-user demand, primarily in China, driven by increased government support to infrastructure and residential investment, the report said.
Overall, sales in this business segment declined 8 percent year-on-year to $3.589 billion in the fourth quarter of 2016.