Aier sets its sights on global role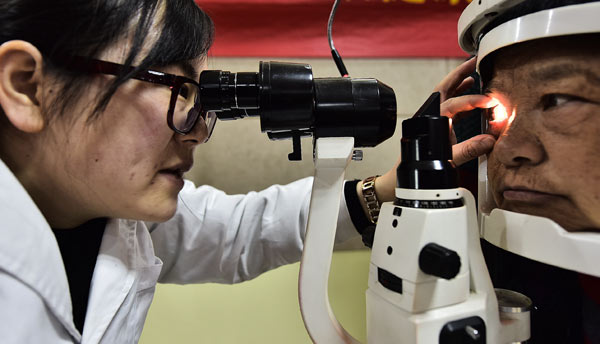 A doctor at Aier Eye Hospital in Hefei, capital of Anhui province, examines a patient's eyes. [Photo by Ge Yinian/For China Daily]
China's Aier Eye Hospital plans to purchase the largest listed-eye clinic group in Europe, making it the world's largest ophthalmic medical group.
The company is currently China's largest private ophthalmic chain, owning more than 160 specialized eye hospitals by 2016, and went public on the Shenzhen stock market in 2009.
It announced on Wednesday it had made an offer to buy Spain's Clinica Baviera SA, specializing in laser eye surgery, with the shares valued at 10.35 euros ($10.99) each. Baviera has around 280 ophthalmologists and 76 eye clinics in countries including Spain, Germany and Italy.
The offer will cost Aier 152 million euros, but the plan still needs to be approved by two countries' regulators.
"If the merger is successful, we will become the largest ophthalmic medical group in the world," said Aier Chairman Chen Bang.
He revealed that Aier's ambition is to enter the overseas market after five years and purchasing well-known international ophthalmic medical institutions is a major part of its internationalization strategy.
The strategy also includes jointly setting up ophthalmology schools with foreign institutes and working with world-leading experts, he added.
In 2015, it accelerated its overseas expansion with the acquisition of Asia Medicare Group Ltd in Hong Kong for HK$182 million ($23.5 million), a move to bring its clinical expertise to the mainland market.
In 2016, it speeds up internationalization by setting up a subsidiary in the US with an investment of $50 million as a platform to integrate global ophthalmic resources. In January, 2017, it spent $18 million to buy the US eye center "Wang Vision Institution".
Its latest annual report shows the medical company had revenue of 4 billion yuan ($588 million) in 2016, up by 26.38 percent year-on-year, and its profit surged by 30 percent to 558 million yuan, mainly from refractive, cataract surgery and optical services.
Du Zhou, an analyst at SWS Research Co, a unit of the Shenwan Hongyuan Group Co brokerage, said that the purchase would help Aier bring advanced technology and innovative management models from Europe to meet increasing demand in China's high-end market.
In the past two years, China's healthcare firms have expanded globally to gain high-end medical resources. Since last year, there are about 60 medical overseas M&A projects by Chinese companies with an investment of more than $5.8 billion, according to VCBeat Research, an industry research organization.
Contact the writers at grace@chinadailyhk.com and fengzhiwei@chinadaily.com.cn