HK to play key role as link between mainland, overseas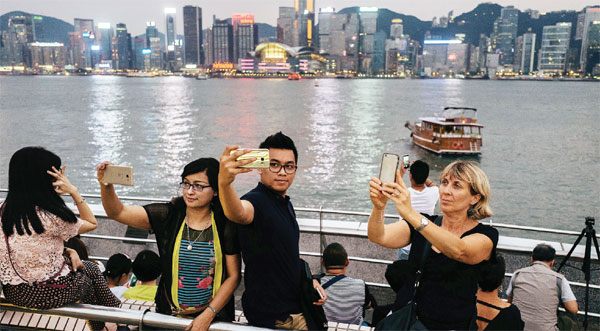 A view of Hong Kong's famous Victoria Harbour. [Photo/Agencies]
With the high-profile development of the Guangdong-Hong Kong-Macao Greater Bay Area gaining pace, Hong Kong is looking to play its part to fulfill the area's ambitions, said the city's top mainland affairs official on Wednesday.
Raymond Tam Chi-yuen, Hong Kong's secretary for constitutional and mainland affairs, made the remarks after talks with the National Development and Reform Commission.
Tam said the NDRC is considering making Hong Kong the locomotive of the strategy and the bay area's window to the world.
The NDRC is expected to submit a full plan of the strategy to the State Council at the end of this year.
In a sign of Hong Kong's determination to get a slice of the action, outgoing Chief Executive Leung Chun-ying will lead a delegation of senior officials and business leaders on a three-day visit to six mainland cities in the bay area next week.
As the one and only world-class financial hub in the area, Hong Kong has an irreplaceable role as the "super connector" between overseas and mainland markets for this mega project. It stands out among the 11 cities across the bay area, as a gateway for overseas investors to the massive mainland market, and a springboard for mainland firms going global, said Dominic Wu Sze-yin, chairman of the Asia Financial Risk Think Tank.
"The city has what it takes to become an exporter of high-end service industries and government management expertise, putting the Pearl River Delta region on course to upgrade its industries amid ever-increasing labor and manufacturing costs," said Fielding Chen Shiyuan, Hong Kong-based Asia economist at Bloomberg Intelligence.
Back in the 1980s, the region timed its takeoff when Hong Kong sought to relocate its manufacturing business and invest excess capital. Nowadays, hard-pressed local manufacturers, feeling the pinch from cheaper manufacturing bases in neighboring less-developed countries, have undergone a yearslong painful transformation.
"Again, this is where Hong Kong could come in, by helping the region climb up the value chain and find the next new growth engine," Chen said.
For Hong Kong, the bay area plan ensures it will reap the fruits of the regional economic integration, he added.