Shanghai may build new airport for business flights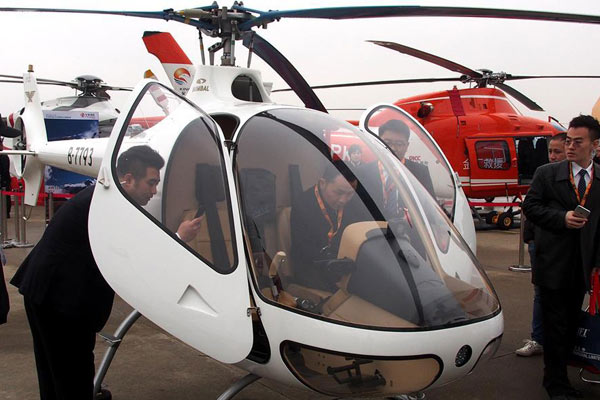 Visitors look at a business plane exhibited during 2017 Asian Business Aviation Conference & Exhibition (ABACE) at Hongqiao International Airport in East China's Shanghai, April 11, 2017.
Shanghai is considering building a new business aviation airport to meet the rising demand for business jets in the city, an official from the Shanghai Airport Authority said on Tuesday.
"In addition to the existing business aviation bases, Shanghai is also planning a new business aviation base elsewhere in the city," said Jing Yiming, president of the Shanghai Airport Authority, at the opening of the three-day Asian Business Aviation Conference & Exhibition.
"The market potential of Shanghai's business aviation is huge, where we've seen more than 20 percent year-on-year growth in the sector during the past few years. So far, a total of 67 general aviation enterprises and 371 general aviation aircraft have been registered with the Civil Aviation Administration of China's East China Regional Administration," Jiang Huaiyu, an official from the administration was quoted as saying by the Shanghai Observer.
"So it is necessary for Shanghai to have an independent airport handling business and general aviation," Jiang added.
Currently, the second business aviation base at Shanghai Hongqiao International Airport is under construction, and is expected to become operational in 2018.
There were 900 turbine helicopters and 450 business jets in China as of 2016, with compound annualized growth rates of around 6 percent and 9 percent, respectively, over the past decade, said Charles Park, director of marketing analysis and planning of Honeywell Aerospace.
Wang Qi, vice-president of China sales and chief representative of ATR, said the development of general aviation will create opportunities for less populated airports.
"About 92 percent of passengers are concentrated in the top 50 of the nation's 219 airports, while the bottom 100 airports only handle 1.6 percent of the total passenger flow, where general aviation can play their role," said Wang.
The concept of general aviation is not limited to business needs, said Liao Xuefeng, chairman and CEO of China Business Aviation Group. "A variety of non-commercial actives including agricultural aviation and rescue can benefit from it."
According to Bill Schultz, senior vice-president of business development in China for Textron Aviation, China's general aviation market offers diversified jet demand.
The 13th Five-Year Plan (2016-20) has a similar supportive trend in areas including tourism, air mapping and emergency rescue, he said.
According to the guiding rules of the State Council on promoting the development of the general aviation industry, issued in 2016, China plans to build around 200 new general aviation airports between 2016 and 2020, bringing the nation's total to about 500.