Co-working space forecast to expand massively by 2030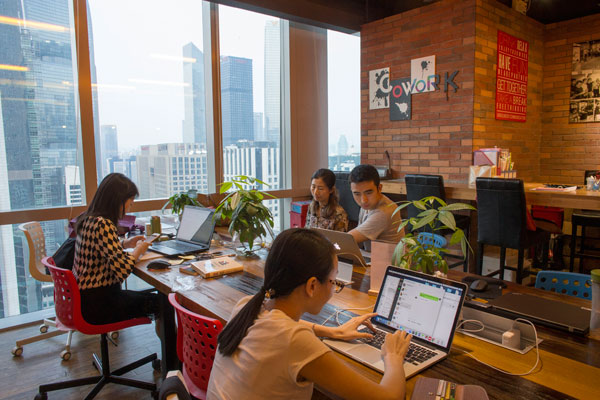 Startup teams share work space at an office-sharing community in Guangzhou, Guangdong province. [Photo by Tan Qingju/For China Daily]
By 2030, co-working spaces will make up 30 percent of the office market and multinational enterprises will become major users, according to a report released by the US-based real estate services provider Colliers International Group Inc in March.
The emerging number of employees from the post-1980 generation and the increase in multinational corporations using flexible workspace are some of the drivers, the report said.
Jonathan Seliger, CEO of naked Hub, a co-working space operator founded in 2015, said the post-1980 generation tended to seek better designed and aspirational settings.
He said their expectations for a working environment included more transparent organizational structures, increased social interaction and nontraditional relaxation spaces and amenities.
Co-working spaces-which can be equipped with lounges and breakaway areas, recreational activities, coffee and even beer-create a more comfortable, collaborative, creative and less hierarchical environment for a company, he added.
Tor Petersen, managing director of sales in China of camera manufacturer GoPro, said he and his team work at the naked Hub in Shanghai.
"Our team loves the ability to work in our secure space, lounge or hot desk area," he said.
"It's the ability to change environments that gives you energy in your day."
GoPro has about 10 people in the hub and expects to add 10 more in the next year, he said.
According to Colliers' report, 47 percent of the Asian workforce is the post-1980 generation.
Tu Jian paid 2,200 yuan ($319.5) for each desk per month to rent an office for his startup, equipped with Wi-Fi, printing machines, open lounges and living rooms in Wework co-working space in Shanghai.
He said his monthly outlay by desk were significantly below conventional office costs. Also, his startup teams could book Wework spaces anywhere in the world, which was very convenient to meet overseas investors or customers.
"We even recruited administrative staff through the membership network," Tu said.
Major co-working space operator Wework, founded in 2010, has to date set up about 100 stores in 12 countries with a total area of 900,000 square meters. Its members include startups and Fortune Global 500 companies, including General Electric, IBM and Microsoft.
Wework founder and CEO Adam Neumann said co-working spaces provided more of a community than a workspace.
"We provide weekly training classes, brand promotions, a financial consultancy and other services for our 90,000 members worldwide," he said.
"We can also help companies who want to expand business in foreign countries."
The Colliers' report said the co-working space operators had in recent years begun to expand their business from startups to multinational companies, which had increased the volumes of transactions. In 2015, 12 percent of transactions involved 15 desks or more. Now the number had growth to 35 percent, he said.
Compared to a traditional office, flexible workspaces can cut costs an average 25 percent and provide a more dynamic environment to improve staff retention, broaden access to skilled staff and potential business partners, the report found.
HSBC rented 400 desks of Wework's store in Hong Kong. HSBC manager Andrew Connell said the co-working spaces allowed the bank's employees to collaborate in an open and agile working environment with innovative teams from other companies, including Hong Kong's fin techs.
"Creating the right environment is important to us as we continue to attract, develop and invest in the staff we need to meet our digital ambitions," he said.
More multinational enterprises are expected to deploy their digital, innovative or technical teams into co-working spaces, the report said.
Though China only had a few co-working spaces in 2015, the past two years have seen a rising demand for flexible workspace in developed cities across China, the report said.
The existing co-working spaces in Beijing, which make up 2.3 percent of the total office market, are estimated to grow to 7-10 percent of the total by 2020, and 30 percent by 2030, it said.
The three major operators in Beijing-URwork, Wujie Space and SOHO 3Q-currently cover a total office area of about 140,000 sq m with 19,000 desks.