Cargo trains put Yingkou port on track for success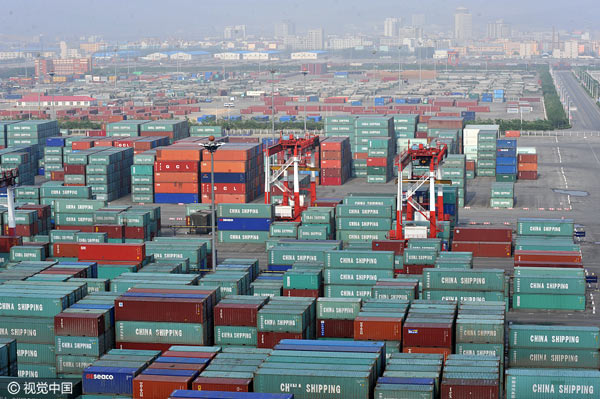 Containers at the Yingkou port in Yingkou city, Northeast China's Liaoning province. [Photo/VCG]
About eight hours after the opening ceremony of the Liaoning FTZ, a cargo train with 41 containers pulled out of Yingkou port en route to the Russian capital Moscow, more than 6,000 kilometers away.
This Yingkou-Europe Train, launched by the Yingkou Port Group Corp in 2013 has helped shorten the transport time by half compared to traditional marine transport, with logistics' costs dropping by some $1,000 per container, according to the company.
"The opening of this international logistics channel helps the flow of goods in Northeast Asia and facilitates the establishment of a Liaoning-centered integrated logistics system in the region," said Zhao Mingyang, deputy general manager of Yingkou Port.
He told China Daily the port has been operating 11 Europe-China trains that link seven cities in four countries since the Belt and Road Initiative was launched in 2013. It shipped a total of 33,000 twenty-foot equivalent units last year, a year-on-year increase of 30.8 percent.
Dong Yongan, director of Yingkou FTZ said: "As an important eastern hub of the Belt and Road Initiative, Yingkou will use the advantage of the FTZ and port resources to build the international sea-rail combined transport channel to further the construction of a Northeast Asia regional logistics center."
Yingkou Port Group Corp signed an agreement with Russian Railways to jointly develop an international logistics center in Moscow last November.
The cooperation will boost China's efforts to reinvigorate its northeastern provinces of Liaoning, Heilongjiang and Jilin, as well as serve Russia's strategy to develop its Far East, according to Li Hezhong, president of the Yingkou Port Group Corp.
According to a person close to the Liaoning provincial government, thanks to the special location of the port, Yingkou was classified as a free trade area of Liaoning FTZ besides Shenyang and Dalian.
Yingkou port, the only one on the Silk Road Economic Belt and the 21st-Century Maritime Silk Road, constituting the Belt and Road Initiative, is nearest to the inland of Northeast China, Mongolia and Russia.
Besides, it also links Russia's Trans-Siberian Railway.
Dong disclosed that one of the main tasks of the Yingkou FTZ is to fully integrate the China-Russian economic corridor and consolidate cooperation with Japan and the Republic of Korea.
Liu Qingni contributed to this story.