Indonesian rail project kicks off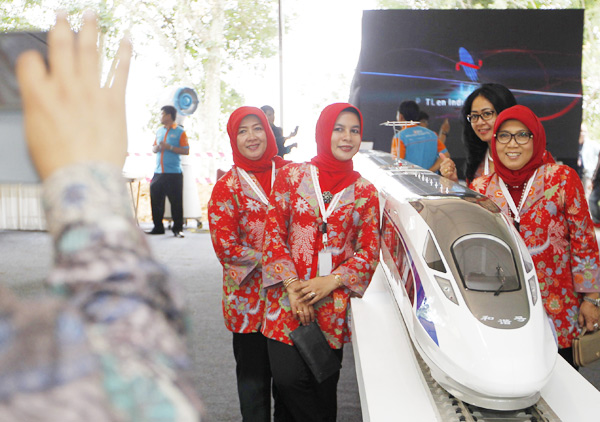 Visitors pose for a photograph next to a model of a bullet train while attending a groundbreaking ceremony for the Jakarta-Bandung railway line in Walini, West Java province, Indonesia. REUTERS
China's first high-speed railway project in Indonesia will push Southeast Asian countries to adopt Chinese standards in building the best quality rail networks, according to Zhou Zhiliang, chairman of China Railway Signal and Communication Co, on Wednesday.
He said because most Southeast Asian nations have only just begun to build new railway lines or bought new trains, they are keen to acquire technical support from China to help with maintenance, training and other services.
His comments came after the Indonesia-China joint venture company PT Kereta Cepat Indonesia-China, on Tuesday signed an EPC (engineering, procurement and construction) project with High-Speed Railway Contract Consortium-the project's business operator and infrastructure provider. EPC projects are a common form of contractual arrangement in the construction industry.
This is the first time China has allowed a State-owned company to fully immerse itself in an overseas project, in terms of design and construction, according to a statement released by the National Development and Reform Commission, the country's top economic planner, on Wednesday.
KCIC and HRSCC completed preparations, including planning approval, project construction permit, franchise agreement, survey and design last year.
Zhou said: "Plans by Singapore, Indonesia and Malaysia to build high-speed rail links will further fuel hope that Southeast Asia could one day have a similar European-style railway system."
Based on distance and technical content, Zhou said the project is expected to generate more than 40,000 jobs a year during construction.
The Chinese Ambassador to Indonesia Xie Feng said the Jakarta-Bandung high-speed railway project once again proved that China and Indonesia complement each other with mutual benefits.
The project is the first of its kind in Southeast Asia, linking Jakarta and Bandung. Its first phase will cover 142 kilometers, with the highest speed reaching 350 kilometers an hour.
The railway, which is expected to be finished in 2019, will shorten the traveling time from more than three hours to 40 minutes.
Xiao Songxin, the project director of the HRSCC, said that they will ensure the project will be completed as scheduled, and that it will be a landmark project.
China was selected by the Indonesian government to build the country's first bullet rail link last year. It will start constructing a $5.5 billion high-speed railway line from Jakarta to Bandung.
The project is financed through a Chinese loan provided by the China Development Bank, which provides roughly 75 percent of the funding with the rest arranged by the joint venture.