Shares surge over Xiongan New Area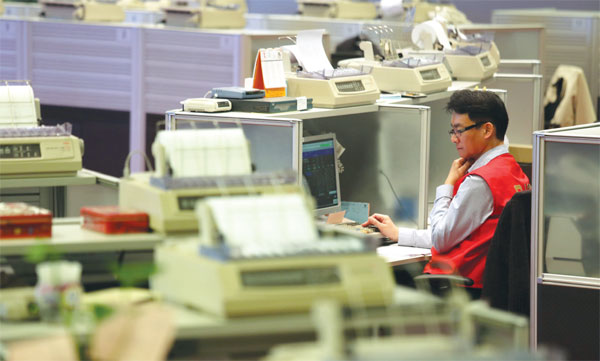 A trader in the Hong Kong Stock Exchange. Parker Zheng / China Daily
Construction, infrastructure, transport stocks surge on news
After a buoyant property market signaled cheer over the planned creation of another economic engine in the form of the Xiongan New Area in Hebei province, stock markets followed suit.
Investors turned bullish on shares of companies involved in development, infrastructure, construction materials and transportation.
Such shares surged on Monday, especially those of companies with their core business in Beijing, Tianjin and Hebei, with a focus on construction materials, utilities and real estate development.
Shares in Hong Kong-listed Beijing Enterprises Water Group Co rose 6.8 percent to HK$6.11 (79 cents), while gas distributor China Suntien Green Energy Co gained 12 percent to HK$1.68.
BBMG, a Beijing-based maker of cement and construction materials, surged 34.67 percent to HK$4.75.
Stock markets in Shanghai, Shenzhen and Hong Kong were closed on Tuesday for the Tomb-Sweeping holiday break. Trading will resume on Wednesday.
Analysts said the government's plans for the new area will likely further boost sentiment toward stocks of related companies headquartered in Beijing, Tianjin and Hebei province.
For, the new area's long-term influence is seen benefiting urban development, transportation and utility sectors.
For real estate developers, uncertainties remain as new policies for property development are likely to be unconventional in the new area, said Guan Qingyou, an analyst with Minsheng Securities Co.
For instance, at the end of 2016, Shanghai-listed China Fortune Land Development Co Ltd, a Beijing-headquartered industrial park developer, had two projects in the new area, with a combined space of more than 500 square kilometers for long-term planned development.
The company said on Sunday it has not yet received any notification on changes to the projects, debunking rumors that all the contracts for projects in the new area became invalid after Saturday. The projects are still in the stage of planning and positioning, the company said in a regulatory filing.
CFLD said it recognizes that the two projects are subject to policy changes, and the company will operate fully in alignment with the national strategy supporting the development of the new area.
The Xiongan New Area will serve to advance the coordinated development of the Beijing-Tianjin-Hebei region, a "strategy crucial for a millennium to come", according to a government circular issued on Saturday.
The area, which is 100 kilometers southwest of Beijing, will span three counties, cover around 100 sq km in the initial stage, expanding to 200 sq km in the medium term before finally reaching 2,000 sq km in the long term, according to Xinhua News Agency.
Wang Delun, an analyst with Industrial Securities Co, said the launch of the Xiongan New Area marks a milestone in the coordinated development of the Beijing-Tianjin-Hebei region, which will benefit industries in Hebei immediately, particularly real estate development and infrastructure.
"First, the move is likely to quickly benefit companies headquartered in Beijing, Tianjin and Hebei that provide steel and construction materials. Second, port and airport operators are likely to benefit as a result of a revised and more rational plan for local transportation and logistics," said Wang.