French company to help manufacturing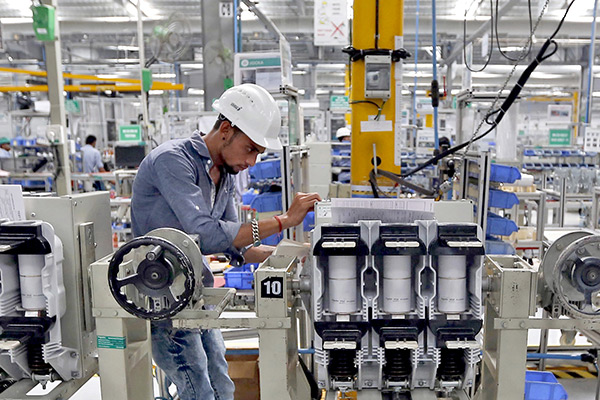 An employee assembles medium voltage switchgear at a Schneider Electric Infrastructure Ltd plant in Vadodara, India. [Photo/Agencies]
French electric equipment and automation company Schneider Electric SA has committed to stepping up efforts to boost the digital and intelligent transformation of China's manufacturing industry.
The company plans to introduce innovative technologies, including those related to the internet of things, big data analytics and artificial intelligence.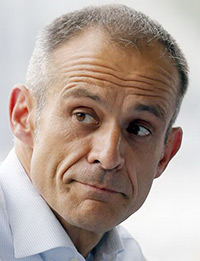 Jean-Pascal Tricoire, CEO of Schneider. [Photo provided to China Daily]
"China is Schneider's second-biggest market. We have a strong presence here, boasting the largest research and development center around the world," said Jean-Pascal Tricoire, its chairman and CEO.
The company is devoted to pushing the digital transformation of energy management and automation in industry, buildings, information technology and cities.
Schneider is working together with Chinese companies under the Made in China 2025 strategy, to promote the digital transformation and upgrading of the manufacturing industry by improving energy efficiency and reducing costs, according to Tricoire.
He said the Chinese market plays a vital role in its global business, adding that the company will continue to increase its investment in the country, with a focus on innovation.
"The Chinese government's support for innovation, high-end manufacturing, energy efficiency and digitalization coincides with Schneider's efforts in these aspects," he said.
The company now operates 26 plants, eight logistics centers, three R&D centers and 40 branches, and has 26,000 employees in China.
It also cooperates with Chinese companies to tap the opportunities created by the Belt and Road Initiative, especially infrastructure construction projects.
"We have many employees in those economies. When Chinese companies go and develop their businesses, such as infrastructure construction in those economies, we can help them go faster and establish their presence easier," Tricoire said.
Yin Zheng, the company's global executive vice-president and president of its China operations, said Schneider has strengthened its cooperation with Chinese machine manufacturers.
"When they export equipment, we could provide them with the latest technology and help them realize digital transformation through offering solution plans and various types of processing equipment," Yin said.