Sinopec's 2016 profit rises 43.8% to $6.75b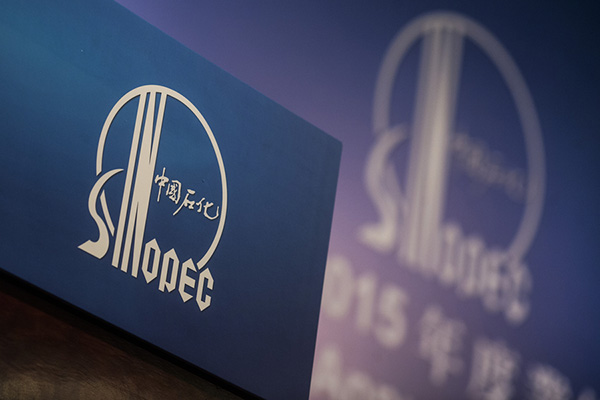 A China Petroleum and Chemical Corp (Sinopec) logo is displayed on a podium at a news conference in Hong Kong, China, March 30, 2016.[Photo/VCG]
China Petroleum and Chemical Corp (Sinopec Corp) said on Sunday its net profit rose 43.8 percent, reaching 46.4 billion yuan ($6.75 billion) last year, Securities Daily reported. 
The operating revenue for the full year fell 4.4 percent to 1.93 trillion yuan, the company said in a statement to the Shanghai Stock Exchange.
The board of directors proposed a final dividend of 0.17 yuan per share to investors. Plus an interim dividend of 0.079 yuan per share which has been paid, Sinopec saw an annual dividend of 0.249 yuan per share, with a payout ratio of 64.6 percent.
Over the past year, in the face of global oil prices fluctuating at low levels, abundant supply in the domestic refined oil product market, fierce competition and more stringent environmental requirements, the company actively addressed market changes and focused on quality and performance improvements, Sinopec said.
Due to low oil prices, the performance of oil companies' upstream divisions was not satisfying. In 2016, the operating revenue of the exploration and development division reached 115.9 billion yuan, down 16.4 percent from the previous year.
However, strong performance in other segments, such as refining and chemicals, offset the loss.
In 2016, the gross margin of the refining division rose 153.8 yuan to 471.9 yuan per ton, which is attributed to product structure optimization, the statement said. The division also reported operating revenue of 56.3 billion yuan, an increase of 35.3 billion yuan from the previous year.
Sinopec expects to report a rise of about 150 percent in first-quarter profits thanks to an increase in international crude prices.