Boao forum pushes for global growth and fair trade
By Li Xiang, Dai Tian and Wang Yanfei in Boao, Hainan | chinadaily.com.cn | Updated: 2017-03-25 13:20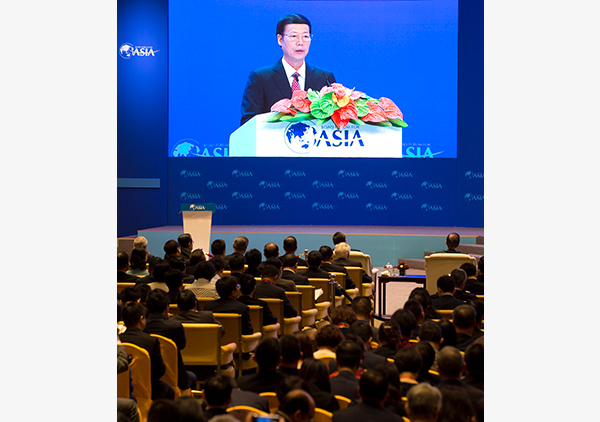 Chinese Vice-Premier Zhang Gaoli delivers a speech at the opening ceremony of the BFA Annual Conference 2017 in Boao, South China's Hainan province, March 25, 2017. [Photo by Feng Yongbin / China Daily]
China called on Asian economies to jointly push globalization and free trade forward on Saturday while simultaneously ensuring shared benefits and inclusiveness.
"We should work together and stick to the principle of opening up and development… and to promote the establishment of the global value chain with the emphasis on shared benefits," Vice-Premier Zhang Gaoli told attendees of the Boao Forum for Asia in Hainan province during a keynote speech at the opening ceremony.
Zhang also acknowledged the positive role Asian economies have in driving global growth and free trade as active participants in the process of globalization.
Prompting free and fair trade, improving regional cooperation and facilitating innovation and technology to generate new growth have been the key topics on the agenda of the four-day forum.
Chinese President Xi Jinping said in a letter to participants of the forum on Saturday that this year's conference, themed "Globalization and Free Trade: The Asian Perspectives," shows a collective focus in the region.
The president applauded efforts made by the Boao forum over the past 16 years since its founding, in terms of building consensus, advancing cooperation and bolstering Asian influence.
The comments are seen as the latest evidence of China's effort to defend globalization and call for greater policy coordination among governments to foster growth and support free and fair trade.
At their G20 meeting in Germany last weekend, financial ministers and central bank governors did not mention anti-protectionism or their traditionally strong support for free trade in their statement, which disappointed some observers.
In his keynote speech, Zhang also vowed for further opening of the Chinese market to global investors while maintaining steady economic growth.
He said that China will continue to improve the investment environment for overseas investors and make the Chinese market more transparent and attractive.