ERG: Chinese companies critical to several projects
The Belt and Road Initiative will fuel momentum for Eurasian Resources Group - the Kazakhstan government-controlled and diversified international mining company - to push ahead with several key projects in which Chinese companies play a critical role, its Chief Executive Officer Benedikt Sobotka said.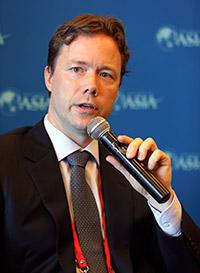 Benedikt Sobotka, CEO of Eurasian Resources Group. [Photo provided to China Daily] 
These include doubling the capacity of an aluminum plant in Kazakhstan, where the company started its business, building an integrated logistics network for an iron ore mine in Brazil and expanding cobalt production assets in Africa, Sobotka said.
Speaking on the sidelines of the Boao Forum for Asia 2017, Sobotka said Beijing's initiative to strengthen ties among Eurasian economies was not just a political idea but a substantial business opportunity that has been put into reality.
"We have been working closely with Chinese partners on a number of high-priority projects. Our company is one of the biggest beneficiaries of this win-win initiative," he said.
Some $3 billion of new projects in Kazakhstan will also include the expansion of its iron ore and chrome businesses, which are mainly focused on supporting the development of China's steel, white goods and oil gas sectors, said Sobotka.
He said the cobalt mining project in Africa will make ERG the single largest supplier of cobalt to China by 2018, a key raw material for making electric vehicles that are needed by Beijing to meet its vision to make the economy and environment cleaner.
"In these cases, the Belt and Road Initiative will make a real difference to global development, because without Chinese partners we wouldn't be able to secure such a sizable deal," he said. "In turn, China could not achieve its goal to electrify its automobiles."
China already accounts for around 30 percent of the total business of Luxembourg-headquartered ERG, whose largest shareholder is the Kazakhstan government.
In the past two years, ERG secured more than $2.5 billion in financing from Chinese banks for new projects in Africa and Kazakhstan.
But China's role is not confined to just financing, but to sharing its knowledge on building plants and developing technologies.
The ERG leader said these projects, which are aimed at fueling industrialization and infrastructural growth and improving the livelihood of local communities, were great examples of the success of the Belt and Road Initiative.
One advantage of the initiative for Central Asian nations lies in the complementarity of natural resources and economic structures for economic and trade cooperation with China, said Li Tao, executive deputy director of the Institute of South Asian Studies at Sichuan University.
Meanwhile, ERG's Sobotka said China would not just be one of the largest consumers of natural resources but an influential owner and investor that is looking into equity investments.
"Over time, China will liberalize its currency and financial market, so we may expect raw materials to be traded not just in US dollars but in Chinese yuan in the future," he said.