Report: China's digital edge export-worthy
By Ma Si, Dai Tian and Ma Zhiping in Boao, Hainan province | China Daily | Updated: 2017-03-24 07:21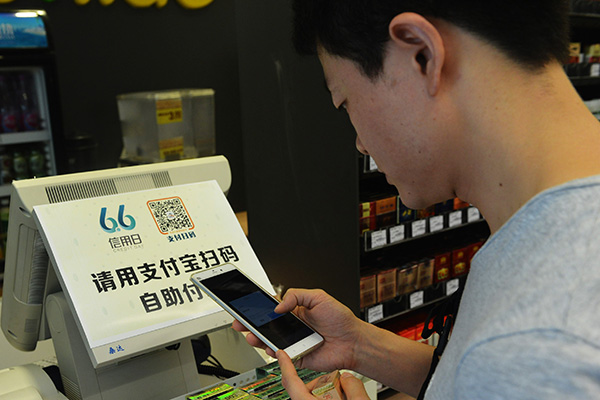 A man uses his smartphone to scan an Alipay two-dimensional code for payments at the first unmanned supermarket in Hangzhou, Zhejiang province. [Photo/Asianewsphoto]

Boao Forum takes stock of nation's expertise in internet finance and risk control
China is in a strong position to export its internet financial services and standards to economies along the Belt and Road Initiative, as the country maintains an "obvious" edge in the booming sector, a key report said on Thursday.
The Report on Internet Finance 2017, released at the Boao Forum for Asia, said China has accumulated abundant experience in mobile payments and online fund-raising, which can help other economies develop internet finance services.
"Other economies can learn from China's experience in leveraging cutting-edge technologies to boost financial efficiency and strengthen risk control. The move will help boost the integration of global financial sources," it added.
The report comes amid explosive growth in China's internet finance sector. It said dynamic initiatives such as mobile payments, peer-to-peer lending, online insurance and others were emerging all the time and were rapidly changing people's lives.
As of October 2016, the Chinese mainland had about 1,850 peer-to-peer lending online platforms, with total transactions in the first 10 months of last year exceeding 1.59 trillion yuan ($232 billion), data from the report showed.
It said Chinese players such as Alibaba Group Holding Ltd and Tencent Holdings Ltd were aggressively extending their financial presence to South Korea, Japan and other overseas markets.
"With the internationalization of payment systems as an initial move, more and more Chinese internet financial companies will go out on the hunt for equity investments and acquisitions, to set up their global branches," said Hu Bin, deputy director of the Institute of Finance and Banking at the Chinese Academy of Social Sciences.
He said that the Belt and Road Initiative will encourage China to build new trade and investment ties with multiple economies, which will offer a great opportunity for the overseas expansion of internet financial companies.
But the report said things needed to be learned in the expansion of business abroad.
"It is of crucial importance to partner with local financial service providers. Only by respecting local culture and policies can Chinese players thrive in foreign countries," the report added.
The report said internet finance should be inclusive and focus more on promoting the development of the real economy, as cutting-edge technologies lowered operating costs and boosted efficiency.
"More efforts are needed to regulate the burgeoning sector as services become increasingly decentralized," it added.
In addition to financial regulators, it proposed that information management agencies, public security bureaus-and other related government agencies-should get involved to improve regulation.