Experts urge regulators to preempt disruptive stake deals, investments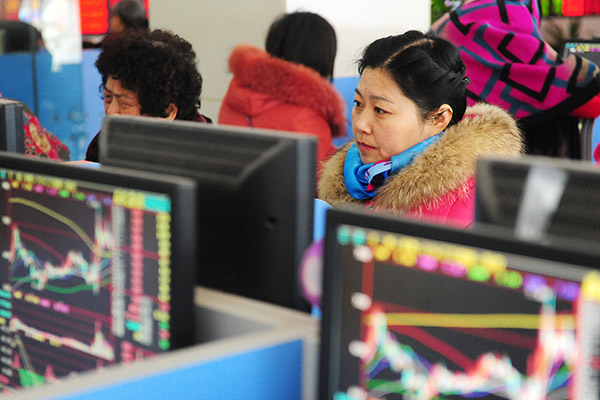 Investors check stock prices at a securities brokerage in Fuyang, Anhui province. [Photo/China Daily]
Although the battle between the management team of China's largest property developer China Vanke Co and its major shareholder Baoneng Group has come to an end, experts said regulators should perfect systems to prevent chaotic market transactions.
Baoneng Group Chairman Yao Zhenhua is no longer chairman or a board member of Foresea Life Insurance, the insurance company said in a statement on March 13. Foresea Life is a subsidiary of Baoneng Group.
The China Insurance Regulatory Commission in February barred Yao from the insurance industry for 10 years for irregular market operations.
The CIRC said that Foresea Life violated regulations and provided false information on its capital increase.
The move came after Xiang Junbo, chairman of the CIRC, pledged to punish speculative and illegal activities by the insurers in February and Liu Shiyu, chairman of the China Securities Regulatory Commission vowed in the same month to "capture big crocodiles" in the country's stock market.
Hong Hao, chief strategist at BOCOM International, said that regulators have carried out severe moves to crack down on illegal activities, and they should work to preempt disorderly market transactions.
Hong said: "Now it's difficult to liquidate Vanke's shareholding without causing market volatility. The shareholdings of Baoneng Group will still have voting power and potentially can still influence board decision."
Baoneng Group was the largest shareholder of Vanke and held 25.4 percent shares, according to the latest information disclosure of Vanke.
Vanke released a statement in March saying that it would have a board meeting on Friday to discuss and approve its financial report of 2016 as well as the election of the board of directors. Securities Daily said Baoneng Group may have four seats at most on the board.
Hao Yansu, director of the School of Insurance at the Central University of Finance and Economics, said China should perfect systems and confirm which big share purchase moves (purchasing no less than 5 percent of an A-share listed company) are allowed.
Wang Guojun, an insurance professor at the University of International Business and Economics in Beijing, said China's investment channels are limited, so insurers will regard investing in the A-share market as a good way.
Wang said: "I believe most big share purchase moves are positive for the market and welcomed by listed companies."
On Tuesday, Chen Wenhui, vice-chairman of the CIRC, said the regulator was studying the detailed regulations that obliged insurers to register with it when they wished to acquire shares of listed companies.
Wang said this is a good way for the CIRC to regulate insurers' capital market participation.